Weaving
2023-03-09
Groz-Beckert's WarpMasterPlus – successful presentation in Asia

Weaving WarpMasterPlus © 2023 Groz-Beckert
At India ITME in December 2022, the latest generation of Groz-Beckert's fully automatic drawing-in machine – the WarpMasterPlus – was presented live on site for the first time in Asia. In addition, Groz-Beckert presented its knotting machine KnotMaster.
With the new WarpMasterPlus, Groz-Beckert relied on the globally proven drawing-in concept, where the drawing-in takes place via a single yarn package technology. Nevertheless, WarpMasterPlus is not simply a further development of the previous generation of machines: The system has been newly constructed from the scratch. The latest technologies were consistently used to bring a machine to the market that is already equipped today for future requirements with regard to increased automation in the course of Industry 4.0.

Maximum flexibility with minimum setup time were further focal points in the development, as well as maximized machine efficiency and simultaneously reduce the loading and unloading time. For this purpose, the number of cycles has been increased and sophisticated functions such as pre-setting drop wire magazines and CNC axes for adjusting the heald length have been added. Conversion times can be reduced to a minimum with different accessories.

Numerous visitors took the chance to experience one of the WarpMasterPlus demonstrations at the ITME. All those who were unable to attend a demonstration at ITME will have the opportunity to experience the WarpMasterPlus at the recently inaugurated showroom in Ichalkaranji in Kolhapur District of Maharashtra State in future. Among other things, Groz-Beckert offers individual customer trials and trainings on the machine here.

Other machines from the Groz-Beckert's Weaving Division portfolio are available for training, tests and demonstrations at the showroom too such as the KnotMaster. Tens of thousands of KnotMaster tying machines are successfully deployed worldwide. Sophisticated technology and simple operation for a wide range of applications are considered the big advantages of the KnotMaster series. Customers benefit from rapid warp changes and reduced processing times for a more efficient and cost-effective weaving preparation. Regarding efficiency, the KnotMaster impresses with its high-performance achieving up to 600 knots per minute.

Intelligent technical features of the KnotMaster increase both process reliability and reproducibility. The yarn clamps with a separate clamping system for example: These special KnotMaster yarn clamps allow the clamping of different yarn thicknesses. Differences in thickness are automatically compensated. Thanks to the automatic repeater, the KnotMaster ensures highest process reliability. In case the separation unit cannot select a yarn on the first attempt, the control repeats the attempt by a predefined number of times. This happens at the full speed of the tying process.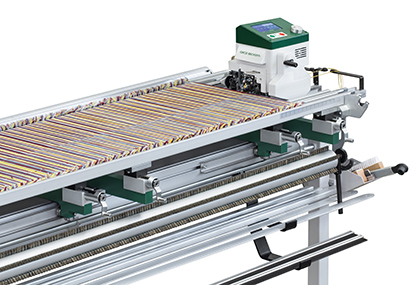 Weaving KnotMaster © 2023 Groz-Beckert
WarpMasterPlus and the KnotMaster are the winning combination for weavers and the flagships of Groz-Beckert's weaving preparation portfolio. The machines are characterized by their simple operation and great flexibility. Groz-Beckert is convinced that the machines with showing these advantages will improve quality and profitability in worldwide weaving mills in future.

Related News
More News from Groz-Beckert KG

Latest News