Spinning
2022-04-07
Oerlikon publishes Sustainability Report 2021
Oerlikon has published today its Sustainability Report 2021, outlining the progress and achievements of the company in environmental, social and governance topics.
Implemented Energy Management Systems (EnMS) at 12 additional sites, bringing the total to 30 sites, equaling 54% of the Group's total energy consumption.

22% of electricity consumed was from renewable sources.

Reduced disposed waste to 31% of total waste by increasing recycling and reuse.

Around 72% of our R&D investment covers the sustainability criteria.

Improved regional diversity in upper management to 21%.

Reduced total accident frequency rate (TAFR) by 18%.

Increased completion of Code of Conduct e-training to 97%.

Progressing Toward a Sustainable Future
"Sustainability is an inherent part of our strategy and technologies, which is reflected in our solutions for customers and in our own operations," said Georg Stausberg, Chief Sustainability Officer and CEO of Oerlikon's Polymer Processing Solutions Division. "On our journey toward our 2030 targets, I am very pleased that we have made excellent progress in our sustainability achievements, initiatives and processes in 2021, especially against the challenging COVID-19 pandemic backdrop."

In 2021, Oerlikon demonstrated that it was well equipped to respond swiftly and effectively to the pandemic to ensure the safety, health and wellbeing of its employees, customers, vendors and communities, and with minimal disruption to its operations and business.

In Oerlikon's approach to sustainable innovation, collaboration remains a hallmark as the company remains focused on extending tool life, reducing fuel consumption in cars and airplanes, improving textile machinery efficiency, increasing recycling of fibers and materials and pioneering future technologies. In the report, there are many case studies and examples of how Oerlikon continues to help customers with cost-effective and climate-friendly solutions and services to build their business in key markets.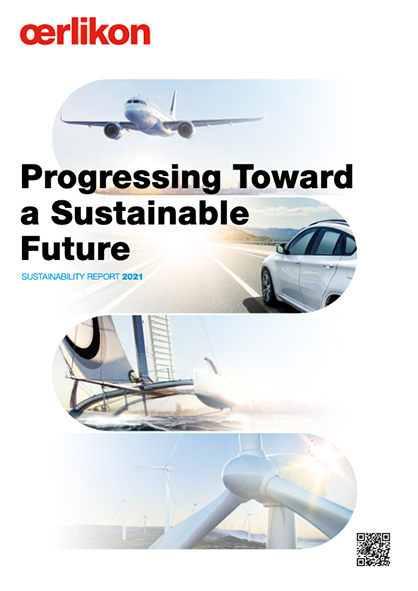 "We will continue to engineer solutions that contribute to a more sustainable planet, and further work on our environmental, social and governance performance in our operations in pursuit of the 2030 targets we have set for ourselves," added Georg Stausberg. "We recognize the need to implement improvements on an ongoing basis – that sustainability is not a sprint toward the finish line but a continuum on our journey to make Oerlikon a more sustainable and responsible company for all our stakeholders."

Please find the online and PDF (download) version of the report on Oerlikon's website: http://oerlikon.com/sustainabilityreport-2021
Related News
More News from Oerlikon Textile GmbH & Co. KG

Latest News