Spinning
2018-05-18
SSM successful on many shows
In the first four month SSM Schärer Schweiter Mettler AG attended eight exhibitions around the world. In Colombia, Bangladesh, Japan, Russia, Indonesia, Vietnam, Turkey and Pakistan SSM could convince the interested visitors about their solutions for yarn processing and winding.
The exhibitions in Colombia, Bangladesh, Russia, Indonesia and Pakistan took place on joint booths of the SSM representatives. During the shows, SSM met many existing, and also potential new customers that showed interest in their products. Thanks to the great effort and support of the SSM agents the exhibitions have been a great success.

For Japan Yarn Fair and Saigontex, SSM had their own booth with the kind support of their local representatives. There, the main focus was given to the high range of possibilities SSM customers could profit. With final packages, wound on SSM machines, as well as knitted textile samples the visitors could feel the difference.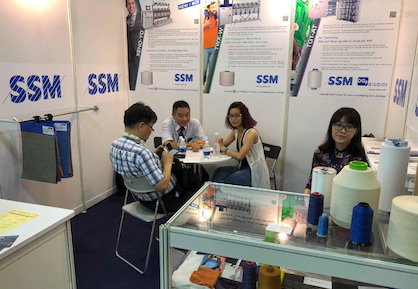 SSM at SAIGONTEX 2018 (c) 2018 SSM
The biggest appearance of SSM was at the ITM in Istanbul, where they combined the sample bobbins & textile (made on the TG30-ETC) with the winding and yarn process machines, such as DP5-T for creating slubs and neps, the XENO-AC for air covered yarns or the XENO winding and doubling machines including DIGICONE® 2 for higher dyeable package densities. Last but not least the PWX-MTC, SSM's latest machine for rewinding of highly elastic yarns on muffs or hanks, had been showed.


SSM at ITM 2018 (c) 2018 SSM
Over all SSM had a successful appearance on the shows around the globe in the first four month and they are looking forward to the exhibitions to come, in order to serve the market with their latest and best solutions for the textile industry.
Until then, detailed information about their textile machines with leading technology is available on SSMs webpage: www.ssm.ch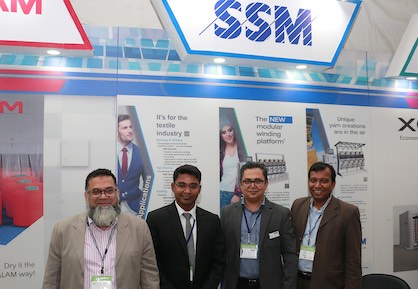 SSM at DTG 2018 (c) 2018 SSM
Related News
More News from SSM Schärer Schweiter Mettler AG

Latest News