Recycling
2022-09-15
Recover™ fiber showcases at the REVOLVE Gallery 2022

© 2022 Recover™
The REVOLVE Gallery returned for the second installment of the immersive, multi-brand installation last week, featuring the Lovers and Friends x Recover™ denim collection, amongst other exclusive brands and emerging fashion designers.
Taking place during New York Fashion Week, the four-day Gallery experience opened with an invite only launch event and preview and was open to the public over the three following days, bringing the Fashion Week experience to the customer in a signature REVOLVE way.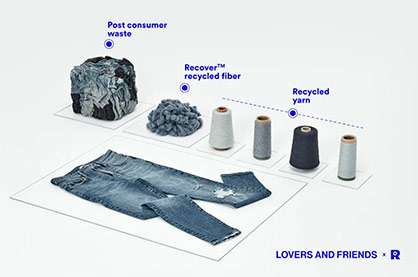 © 2022 Recover™
This year, the gallery featured over 20 creative spaces with curated displays. The?REVOLVE-owned brand Lovers and Friends presented pieces from the original Recover™ denim collection launched in 2021, as well as new pieces made with Recover™ recycled cotton fiber such as the Micro mini skirt, all available online at revolve.com.

Originating from post-consumer waste denim, our low-impact recycled cotton fiber creates big environmental savings with each pair of Lovers and Friends x Recover™ jeans saves up to 1357 liters of water, the equivalent of 23 showers, or one year´s worth of drinking water, helping to close the loop on fashion. It also underscores REVOLVE's commitment to sustainable fashion, and leading the change towards a more circular system.

We began working with REVOLVE in 2021 and our strong partnership continues to develop as we work together to showcase denim circularity and bring more sustainable collections to the market.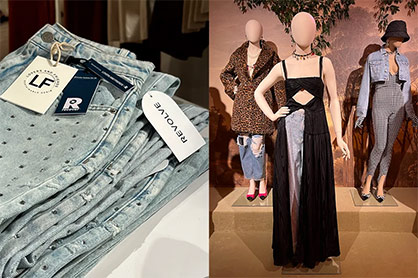 © 2022 Recover™
Related News
More News from TEXDATA International

Latest News