Recycling
2019-01-30
Creating a fully circular polyester chain

The CuRe Team: Marco Brons: Technical Director at Cumapol, ACES and DuFor. Josse Kunst: Director Chemical Recycling at Cumapol. Arjen van Kempen: Commercial Director at Cumapol, ACES and DuFor. Elsa Wanders: Communication at Cumapol, ACES and DuFor. Mark Ruesink: Morssinkhof, Production & Innovation Director (r)PET. Lukas Hoex: Manager Strategic Growth at DSM-Niaga. Not on the picture but crucial part of the team: Debbie Appleton: Global Manager Materials Recovery at DSM Niaga
CuRe: A new investment in low energy polyester recycling has been launched by Cumapol, DSM-Niaga, and Morssinkhof. The goal is to recycle used polyester waste streams in polyester suitable for high demanding applications like carpets, textile and food packaging. Realising low energy recycling for different polyester product waste streams is a major step towards a fully circular polyester chain. The partnership kicks-off with a pilot plant, to prove the technical and financial sustainability of a new technology for polyester recycling.
The issue of colored and different polyester product waste streams

Existing polyester recycling techniques require a relatively clean waste stream of clear or light blue polyester bottles. For that reason colored polyesters or mixed polyesters (i.e. carpet, textile and food packaging) often lack the economic feasibility for recycling, and still end up at landfill or incineration. CuRe is a pilot plant that enables a continuous polyester recycling process for post consumer and post industry polyester waste streams - including packaging materials and textile products - and cleans the original plastic material from contaminants and color.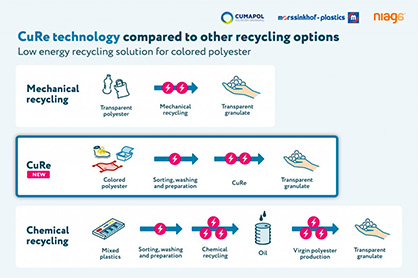 (c) 2019 CuRe
Marco Brons, Technical director of Cumapol says: 'Using this new CuRe Technology, we can use different sources of polyester waste streams. Food safety regulations mean we have to use 95 percent PET from food packaging for mechanical recycling. However, with our CuRe Technology we can use every kind of polyester starting material including colored polyester. And there is another option: during this CuRe recycling process, bio based monomers could be incorporated into the polymer chain to make it even more sustainable' .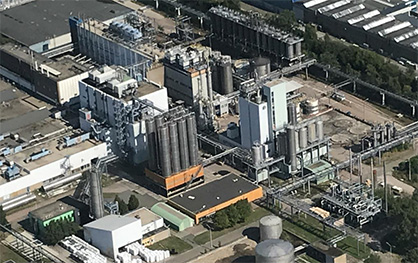 Pilot plant in Emmen (c) 2019 CuRe
The pilot plant, located at the heart of an existing industrial site in Emmen, should be operational In the summer of 2019. The pilot plant will have a capacity of 20 kg/hr in a continuous process. It is our first step towards conversion of the existing / idle polymerization lines of Cumapol, because after the pilot phase our existing polymerization lines in Emmen will be rebuild. These future CuRe production lines will have a capacity of 25 kton per year. The pilot will clarify the requirements needed to scale up to 25 kton and supports the transitioning of the plastics industry into one that is restorative and regenerative by design.
Making the polyester chain circular together

The CuRe Polyester Recycling Technology allows to treat any type of used polyester, remove the color and turn it back into clear pellets with the same properties as virgin grade polyester. Used polyester recycled with the CuRe technology is food grade, and therefore it can be applied again in any typical polyester application. Products that are designed for recycling will lead to higher economic and ecological revenues.
The partners invite other companies on their journey and ask: "How circular is your product (waste stream)"?
Closed-loop partners

"The optimum utilisation of raw materials is an increasingly large challenge being faced by today's society" says Mark Ruesink, innovation Director of Morssinkhof Plastics. "We are proud to announce that additional to our already successful Mopet® process we now take our next step with CuRe. This will allow us to reduce the polyester waste mountain even more than today possible."

"This partnership fits our strategy to take responsibility beyond the product design for recyclability." According to Kelly Hall, Managing Director of DSM-Niaga. "DSM-Niaga is dedicated to contributing in key technology developments that further enhances the opportunities of local polyester recycling on a global scale."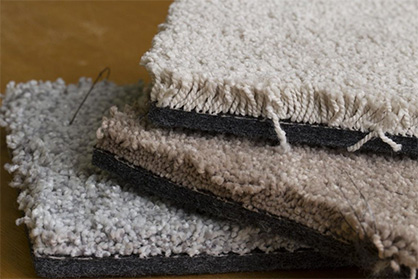 (c) 2019 CuRe
And Marco Brons, Technical director of Cumapol adds: "We are very excited to have other companies invest in our expertise and co-develop the future of polyester upcycling. Since the plant will be installed in the Cumapol premises in Emmen, we will increase our capacity by another 25 kilotons. With that we also want to prove to the world the possibilities of large scale production of our CuRe technology."

Other partners working together with CuRe: two Universities of Applied Science (NHL Stenden and Windesheim) and DuFor Polyester Specialties.

CuRe wants to realise low energy recycling for difficult to recycle, colored and mixed polyester waste streams. This is a major step towards a fully circular polyester chain. A pilot plant in Emmen is a first step towards conversion of the existing polymerization lines of Cumapol. The new production lines will have a capacity of 25 kton / year. CuRe is a partnership between Cumapol, DSM-Niaga, and Morssinkhof. MoRe CuRe, CuRe MoRe, again and again

Related News
More News from TEXDATA International

Latest News