Market Analysis & Forecasts
2023-05-25
Global Upcycled Denim Products Market Report 2023: Rising adoption of sustainable and environment-friendly products drives growth
The "Upcycled Denim Products Market by Product Type, Price Point, Distribution Channel: Global Opportunity Analysis and Industry Forecast, 2021-2031" report has been added to ResearchAndMarkets.com's offering.
The upcycled denim products market size was $392.5 million in 2021 and is estimated to reach $838.6 million by 2031, registering a CAGR of 7.9% from 2022 to 2031.

Key Market Players

• Souravi Enterprises

• Industry of All Nations

• ReChakr Solutions Private Limited

• E.L.V. Denim Limited

• blue milano s.r.l.

• NV Group Private Limited.

• ROSTAING

• Zero Waste Daniel

• Raw Materials Amsterdam

• Redone LLC.

• EB Denim

• Ruda Patrice

• Remu Apparel

• DenimX B.V.

• Use Me Works

Upcycled denim products are made up of existing denim fabric or denim products such as jeans, jackets, and other denim products. Upcycling is done by using either pre-consumer or post-consumer waste or a combination of the two. Pre-consumer waste is produced while items are being manufactured and post-consumer waste results from the finished product reaching the end of its useful life for the consumer.??Key factors driving the growth of the upcycled denim products market include an increase in awareness about upcycled denim products, the rise in the adoption of sustainable and environment-friendly products, rapid growth in urbanization, changes in lifestyle and growing disposable income, and rapid digitalization and brand promotion. The clothing industry is witnessing spiraling growth owing to rapid digitization. Whether online or offline, promotional activities and campaigns are fueling the demand for upcycled denim products. Advertisements, and collaborations with celebrities for promotion, fashion shows, etc., are acting as a stimulant to upcycled denim product demand.

Similarly, upcycled denim toys are emerging as a new trend due to the revolution in upcycling of denim products. These innovations in upcycling textile wastage and household denim wastage will open new opportunities for the new players in the upcoming years. The manufacturers are investing in advertising initiatives to increase awareness about the upcycled denim product among the consumer which is expected to propel the growth of the market. Upcycling is the technique of utilizing textile production by-products that have different useful applications from their original form. With the increase in the landfill of denim apparel, many different denim mills are running upcycling projects for circularity. However, recent innovations and development in upcycled denim production are expected to create new opportunities in this booming sector.

Several players are entering the market with innovative designs, cost-effective products, and sustainable products which are expected to fuel the growth of the market. Moreover, the increase in investment in the recycling and upcycling of denim products by the key manufacturers and the government is expected to create opportunities in the upcoming years.??People, most of the time are misled by counterfeit products and mistakenly buy look alike and fake products, which is expected to hamper the growth of the upcycled denim products market during the forecast period. Various companies including E.L.V. Denim, Re/Done, EB DENIM, Blue of a kind, and dwij products deal with counterfeiting problems. They are taking important steps aimed at protecting their brand identity.

Furthermore, the key players blocked and shut down websites that promote sales of counterfeit items using trademarks, logos, and imagery. Despite consumer awareness regarding their favorite original brands and important steps taken by companies to tackle fake brands, fake jeans inevitably made their way into retail and online stores, which in turn restrains the growth of the upcycled denim products market.
Key Benefits For Stakeholders

• This report provides a quantitative analysis of the market segments, current trends, estimations, and dynamics of the upcycled denim products market analysis from 2021 to 2031 to identify the prevailing upcycled denim products market opportunities.

• The market research is offered along with information related to key drivers, restraints, and opportunities.

• Porter's five forces analysis highlights the potency of buyers and suppliers to enable stakeholders make profit-oriented business decisions and strengthen their supplier-buyer network.

• In-depth analysis of the upcycled denim products market segmentation assists to determine the prevailing market opportunities.

• Major countries in each region are mapped according to their revenue contribution to the global market.

• Market player positioning facilitates benchmarking and provides a clear understanding of the present position of the market players.

• The report includes the analysis of the regional as well as global upcycled denim products market trends, key players, market segments, application areas, and market growth strategies.

Key Attributes: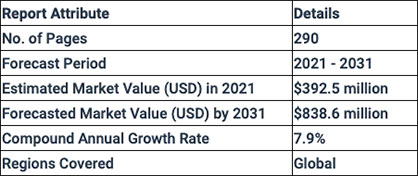 Market Dynamics

Drivers

• Increase in awareness about upcycled denim product

• The rise in the adoption of sustainable and environment-friendly products

• Rapid Growth in Urbanization

Restraints

• Availability of counterfeit products
Opportunities
• Increase in the influence of social media

• Increasing demand from emerging economies

Key Market Segments

By Product Type

• Apparel

• Sub type

• Jeans

• Shorts

• Jackets

• Others

• Home Goods

• Sub type

• Quilt Mat

• Basket

• Pouch

• Rug

• Cushion cover

• Others

• Others

By Price Point

• Mass

• Premium

By Distribution Channel

• Specialty Store

• Online retail

• Others

By Region

• North America

• U.S.

• Canada

• Mexico

• Europe

• Germany

• France

• Italy

• Spain

• UK

• Russia

• Rest of Europe

• Asia-Pacific

• China

• Japan

• India

• South Korea

• Australia

• Thailand

• Malaysia

• Indonesia

• Rest of Asia-Pacific

• LAMEA

• Brazil

• South Africa

• Saudi Arabia

• UAE

• Argentina

• Rest of LAMEA

For more information about this report visit
https://www.researchandmarkets.com/r/8hcg9o

Related News
More News from TEXDATA International

Latest News