India ITME 2016
2016-12-01
Preparation in full swing to host India – ITME-2016

Mr. Sanjiv Lathia, Chairman & India ITME team & India ITME-2016 Site Office (c) 2016 India ITME Society
Preparation is in full swing for Mega textile Engineering Event - India ITME-2016 in Mumbai. Most modern cranes & machineries are working 24 x 7 at NESCO Grounds to set up nearly 1000 numbers of live demonstration of machineries shipped from 38 countries. This Goliath event shall be visited by 91 Counties from 3rd – 8th Dec.2016.
It is matter of pride for India that such an important business event & exhibition is hosted every 4 years in the country. Importance of India as a market, opportunity for investment, Joint Ventures in textile & textile machinery manufacturing sector is obvious from the overwhelming response & interest guaranteed by this event.
Visitors from far & wide, Small & large developed & developing nations come together to learn, interact & see most modern machineries in Spinning, Weaving, Processing, Digital Printing, Garments, Knitting, Embroidery, Testing, Fiber & Yarn, Green Technology covering 17 chapters, 11 halls at NESCO.
Customized solutions & 25 new product launches are the highlights of this event. New product launches such as, Spinit 3.0 E with optional fancy module device, Chenille yarn machine, tread winding machine, Super Auto Levellor Drawframe are drawing visitors from all textile hubs.
Never before has 8 prestigious Educational Institutions come together under one roof for presenting technical paper & panel discussion in an exhibition like this. Institute of Chemical Technology, Mumbai (ICT), The Technological Institute of Textile & Sciences(TIT), Bhiwani, DKTE Society's Textile & Engineering Institute, Ichalkaranji, National Institute of Fashion Technology(NIFT) and design from MIT Institute, China Cotton Textile Information Centre, China, The Textile Institute of UK are actively participating in this event.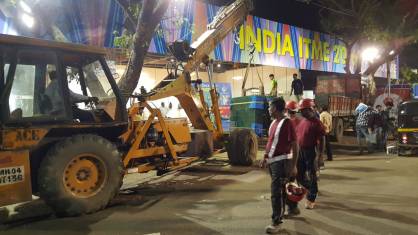 Pic: Preparation in full swing
For the first time India ITME is also having support and participation from 'Supporting Indian Trade and Investment for Africa (SITA)', Geneva, Switzerland,international trade centre,a division of United Nations which works towards promoting presence of Indian investors and trade in East Africa.
India ITME-2016 is a platform for business & knowledge exchange for all from textile industry across the globe. Financial institutions like HDFC and IDFC all are ensuring their presence to offer their financial solution to investors in this segment.Two State Governments, State of Gujarat & State of Karnataka are aggressively promoting Textile Parks and investment opportunity and textile policy to domestic and international delegates.
It is a complete event for businessmen, professionals & students.
Visit India ITME-2016 at NESCO grounds to view exciting innovative technologies & machineries for textile.
Pic: 50 ton Pick & Carry crane – only one of its kind in India at India ITME site
Related News
Latest News India ITME 2016
More News from TEXDATA International

Latest News