India ITME 2016
2016-11-30
iNTERSPARE presents its portfolio at trade fairs in India
The German company iNTERSPARE Textilmaschinen will present the Artos and Krantz product lines (Babcock Textilmaschinen) of its machinery portfolio at two important trade fairs in India. At India ITME in December discussions on existing requests will take centre stage. And at the February KNIT-TECH in Tirupur iNTERSPARE will be giving a special presentation at their 72m2 booth addressing finishing companies active in the field of sophisticated knitted products. The presentation will focus on the technical advances of its machinery and latest developments.
By participating in these trade fairs, iNTERSPARE is reacting to high demand and the ever increasing interest expressed by textile companies in India, which became evident at ITMA 2015 in Milan. The Krantz Syncro machine presented there was bought practically on-the-spot by the Indian company "Jubilee", and in August had been successfully taken into operation by the company.
Since ITMA in Milan, orders from India have been coming in thick and fast, some of which have already been delivered; others are still in production at the plant in Reinbek. 
iNTERSPARE believes this high demand originates not just from the successful presentation of technical advances and innovation at ITMA, but that it is also due to the excellent reputation of its Artos and Krantz brands. Over the course of several decades, Babcock Textilmaschinen delivered finishing machinery from the Artos and Krantz lines to India, which have more than proved their worth in day-to-day production. In addition to those companies in India, numerous companies from Bangladesh are also expressing a great deal of interest.
iNTERSPARE CEO, Dirk Polchow, says of the high demand in the Indian textile industry: "India has ambitious goals as an up-and-coming industrialised country. That means that India, which is currently the world leading producer of cotton, also wants to expand its leading role as a textile country. This is accompanied by even higher quality in textiles, which can in turn only be achieved using the best machinery. In all our discussions, we notice that Indian textile producers look very closely at who can deliver them the desired quality, and as a result they seek to hold discussions with us. The textile finishing industry is small, and after ITMA and our first deliveries, it was quickly realised that quality Artos and Krantz machines are available again in larger numbers."
Attendance at India ITME 2016
In December this year, Managing Director Carsten Kalek and Product Manager Manfred Zeuge will be attending ITME 2016 in Mumbai, and will be available to answer any questions about the technical advances of the machinery in the Artos, Babcock Textilmaschinen and Krantz product lines. Both will illustrate how iNTERSPARE can support the Indian textile industry in its growth and modernization objectives with their machines, which are so highly valued in the market. This especially applies to the highest quality demanded in the premium segment for fabrics and knitted products.
Participation in KNIT-TECH 2017
At Asia's largest technology fair for knitting, KNIT-TECH 2017, which will be held in February in Tirupur, iNTERSPARE will present the company itself, its machines and spare parts on a 72m2 booth (B11 and B12). KNIT-TECH has a very special importance for iNTERSPARE, as it takes place right in the heart of the Indian cotton knitting industry, thus providing easy accessibility and facilitating visits from many specialists in the knitting industry. iNTERSPARE looks forward to a great number of expert discussions about the current challenges facing Indian knitting companies, since it is with knitted products that Artos and Krantz machines can really show off their technical advantages. A soft touch is the result of delicate handling of the product, both during the drying process and in particular during shrink drying. 
New agents in India
Since the start of the year, iNTERSPARE has been supported by its new agents in India, the companies Global Group of Marketing and Global Group of Engineering, which were able to score with their outstanding market knowledge, their de facto service philosophy and their technical expertise.
Product tests in India
In addition iNTERSPARE also offers interested customers the opportunity to test the desired product on a Krantz Syncro right there in India, and thereby get a valuable and personal impression of the quality of the finished product. This is carried out on the system transferred in August to the Tirupur-based company, Jubilee.
iNTERSPARE Krantz Syncro shrink dryer
The Krantz Syncro is very well-known for an extraordinary quality of the results as well as a high production rate, based on the optimal interplay of many sophisticated and patented components. Its unbeatable performance can be admired especially during the drying of  knitted fabrics in tubular or open width form up to all fabric weights. Also in drying of woven fabrics outstanding results will be achieved.
The diversity of the Syncro is unique. Without problems it is possible to drive with one or more lathy or wide fabric layers side by side. Additionally processes such as drying, shrinking, intermediate drying or drying for formation of fabric can be proceeded here on only one production line.
The shrink dryer allows long reaction times and high overfeeds up to 200 % on the screen belt. This causes a uniformly and gentle drying with an optimal stress relieving in the fabric.
Depending on the type of product, the operator can choose between a high-pressure air jet or ventilated drying. The intensity of the air flow can also be adjusted as desired, and likewise the qualities of the characterics. Because of these different selection possibilities of many parameters the drying can be regulated exactly for each special requirement of the fabric.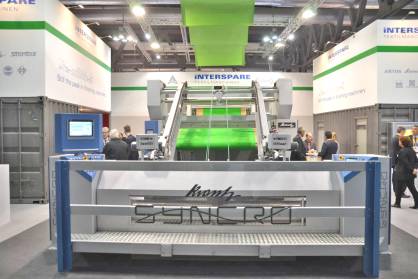 Pic: iNTERSPARE Krantz Syncro presented on ITMA 2015 in Milan (c) 2016 iNTERSPARE
In reference to the advantages of the Krantz Syncro, Head of Business Development Hartmut Büchner (a towering figure in the industry, boasting 40 years experience with machinery) said, "Shrinking is an exceedingly complicated process, for which we are happy to lend our customers our expertise in order to achieve the best results. It is nonetheless the case that residual shrinkage is specified to textile companies, which often have to undertake major efforts to achieve those very ambitious goals. If the machine does not fully support the process, the product will dry too quickly, become as stiff as a board and require a considerable amount of treatment to soften it again, so as to achieve the optimum residual shrinkage. This costs time, energy and money. Even so, in the end the result is not the same as if it had been achieved using an appropriate and more gentle process. The Krantz Syncro shrink-dryer produces a soft product with a fantastic feel and volume as well as optimum residual shrinkage. Textile companies based in India are welcome to convince themselves of the results in person, so that they can not just know about the advantages of the Krantz Syncro, but can see the end products with their own eyes. We will then be happy to explain to them the unique capabilities of our technical solution, and which crucial patents play a role in the outstanding result."

Other iNTERSPARE machines
The stenter frame iNTERSPARE Krantz K30 persuades both by outstanding quality of its components and numerous patented construction, which lead to excellent quality results of the fabrics. Special characteristics are the low-tension guiding of the fabric, the safe pinning-on, the smooth fabric transport and long lifespan, the patented air guiding, where the fresh air is got centralized in the dryer via an entry slot and is guided in parallel flow with the fabric through the dryer, the optimal temperature distribution with the help of the unique convey-air nozzle system, the regulated, reproducible air distribution as well as the consequent maximal moisture in the air circulation and the minimal waste during cutting of the selvedges. All this features make the Krantz K30 a stenter frame which achieves highest requirements.
The iNTERSPARE Artos Uni-Star stenter frame is the top choice among textile finishers around the world due to its high efficiency. Its unbeatable advantage is that it efficiently distributes air across the entire width of the fabric. This achieves a perfectly even product quality with optimal preparation for the subsequent manufacturing processes. The lubrication-free product conveyor chain prevents oil splatters on the material web, and the chain paths require no lubrication.
The iNTERSPARE Artos Vari-Flex padder is a very flexible and powerful dyeing padder which has been constructed especially for great utilization amplitudes in dyeing of woven and knitted goods.
The iNTERSPARE Artos Uni-Flex padder is especially for requirements of impregnation developed and stands since decades for outstanding results for knitted, woven and nonwoven fabrics.
Modification, upgrade and modernisation of existing installations
Textile companies using Artos (Babcock, Famatex), Krantz and Stentex branded finishing machines for their production have an excellent opportunity at the fairs of being updated on innovative modifications to their installations. A consequence of a modification may be for example improved energy efficiency. Other modifications include for example the extension of the machine for enlarging production capacity.
INTERSPARE has all the technical drawings of the machines available and is subsequently able to submit constructive and well-informed proposals.
Equally interesting are conversions enabling installations to be adjusted to changed specifications. Examples of these are conversions of heaters from oil circulation systems to gas heating or exchanging lubricated tension chains for modern lubrication-free chain systems. More extensive alterations such as the conversion of stenter frames for woven goods for the use of knitted fabrics are also possible.
For many customers, integrating modern electronic components represents an opportunity to improve their older systems, so that their manufacturing will be more efficient and cost-effective.
Related News
Latest News India ITME 2016
More News from iNTERSPARE GmbH

Latest News