ITMA Asia + CITME 2018
2018-10-11
PENTEK introduces the latest version of DreamAIR
The Italian company Pentek Textile Machinery is pleased to announce the latest version of DreamAir, the exclusive wet tumbler for specialty finishing effects. Thanks to the refined airflow fabric transportation with mechanical action, DreamAir is a unique creative tool dedicated to the most demanding fabric finisher.
From chemical processes to various washing effects, it's now possible to reproduce in continuous an entire range of wet applications which are conventionally achieved in discontinuous batch machines.
Caustic washes for tensionless mercerization, enzyme washing, fibrillation and defibrillation, bleaching and sand washing effects are all possible in continuous form.

Batch to batch variation is no more a concern, thanks to the precise and continuous chemical dosing system. Water consumption and utilities are dramatically reduced, opening a totally new scenario when marketing added value fabric.

Following the tradition of Italian high quality fabric finishing, Pentek Textile Machinery is exhibiting DreamAir wet tumbler at ITMA Asia 2018 Italian Pavilion, Hall 6 Booth C34.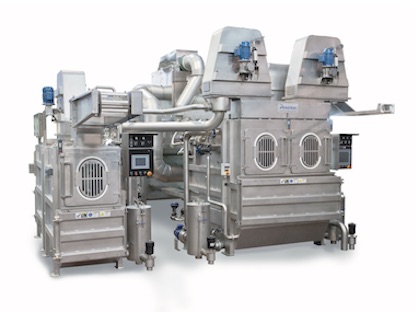 Pentek DreamAir (c) 2018 Pentek
Related News
Latest News ITMA Asia + CITME 2018
More News from Pentek Textile Machinery s.r.l.

Latest News