ITMA 2023
2023-05-24
Tecnorama: Innovating the textile dyeing industry with mechatronics
Tecnorama is specialized in designing and producing mechatronic systems for the automatic handling of chemicals and dyestuffs used in the dyeing processes of all textile materials.
Focused on automation, Tecnorama aims to increase reproducibility between laboratory and production recipes and optimize the dyeing processes. DOS&DYE® is an automatic laboratory dosing and dyeing system with a great worldwide reputation. It is the first and the only one system developing the right recipe for bulk dyeing machines, in order to avoid correction and re-dyeing in production with considerable time and resource savings. Composed of a Dosorama dispensing machine and one or more robotized dyeing modules, the DOS&DYE® works independently for 24 hours a day and 7 days a week. It automatically performs the whole dye-bath process without any operator intervention and matches the features complying with Industry 4.0.

The DOS&DYE® system has been adopted by leading textile companies around the world for its accuracy, efficiency and reliability.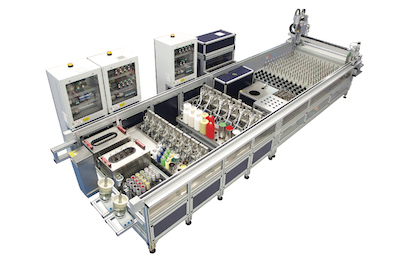 Tecnorama Dose&Dye (c) 2023 Tecnorama
At ITMA 2023, the world's largest textile technology exhibition, Tecnorama will present its latest innovations for laboratory, to be fully integrated in the DOS&DYE® system, including:

DOSORAMA MASTER: the best performing dispensing machine, evolution of the DOSORAMA WS

DYRAMA 4R/1000: yarn dyeing module with 1 kg capacity

ROTODYRAMA 6R/20: dyeing module for small pieces of fabric and knit

DOSORAMA CLEVER: the fully automatic dispensing machine with multi-pipette mono-plunger system combined to a SHAKERAMA dyeing module

Noteworthy also the following new solutions developed for bulk:

ASV - VERTICAL AUTOSTORAGE: an automatic warehouse for storing and handling boxes of dye-stuff powders for production

APV - VERTICAL AUTOPARK with DLP dissolving unit: vertical parking system for storage and automatic handling of stainless steel buckets containing the dispensed recipes

Tecnorama is committed to provide the textile industry with state-of-the-art automation technology. These innovations will enable the textile companies to optimize productivity, minimize wastes and reduce labour costs but maintaining high quality and perfect reproducibility.

The DOS&DYE® system has already revolutionized the dye-house working method.

With its innovative and automated technologies, Tecnorama has been a leader in the sector for many years.

Discover the Tecnorama world al ITMA trade fair in Milan (June 8-14) stand H11 B102 !

Related News
More News from TEXDATA International

Latest News