ITM 2013
2012-07-20
Next ITM Texpo Eurasia will be in 2013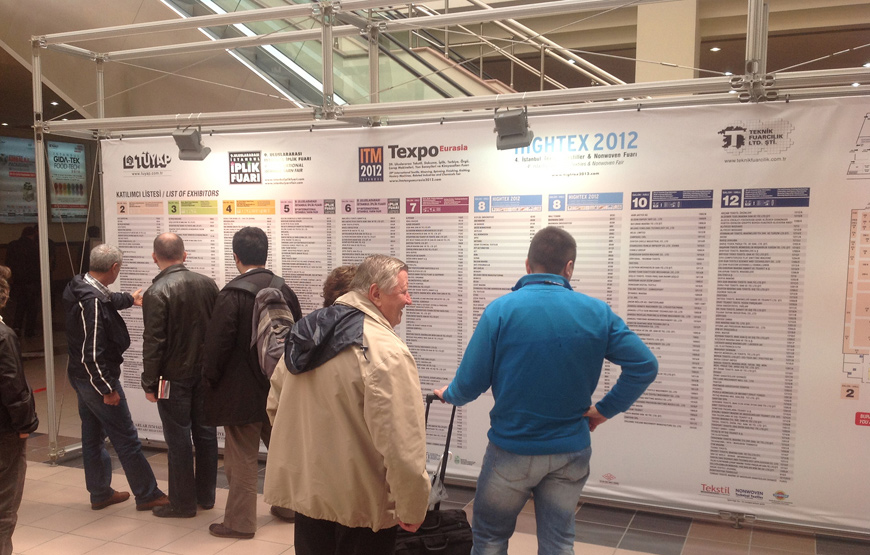 ITM Texpo Eurasia 2012 in Istanbul (c) 2012 TexData
Today Teknik Fuarcilik send an announcement that the next ITM Texpo Eurasia will be in 2013 in Istanbul, Turkey.
The letter says:
"The great success of ITM Texpo Eurasia 2012 led the way for 2013. . . 
After the great success of ITM Texpo Eurasia 2012 Exhibition, we are getting prepared for ITM Texpo Eurasia 2013 Exhibition. Thanks to the influence of the incentives, the Turkish textile industrialist realize important technology investments. Thus ITM Texpo Eurasia 2013 Exhibition scheduled for 29 May-01 June 2013 will be the most effective platform for machinery investment.
In our country, Turkey, becoming the center of the world textile production in Eurasia day by day we have recently experienced a successful era also in terms of textile exhibition industry. Textile based exhibitions organized within the first half of 2012 became a power supply for the forthcoming periods. ITM 2012, HIGHTEX 2012 and Istanbul Yarn Fair organized on 21-24 April 2012 were one of these successful events. On the first day of the show more than 15.000 visitors rushed to the fairground creating queues on the main entrance. The exhibition was visited by more than 40.000 visitors from 78 countries in total. During the show, important contracts were signed; briefly both the supplier and the clients were mutually satisfied of the outcome of the show.
ITM Texpo Eurasia planned to be organized in 2014, has been re-scheduled for 2013 due to external and internal factors, the strenght, the growth and motivation in the industry with the cooperation of Teknik Fuarcılık and Tuyap, and the support of TEMSAD.
Texpo Eurasia organized annually and being a local textile machinery exhibition and ITM being one of the most important textile machinery exhibitions decided to combine their synergies. The success of the first show organized in that sense has proved to be a right decision; the future exhibitions will be organized as ITM Texpo Eurasia.
On the other hand, the stimulus package recently announced by our government is quite important as this launched a new development attack in our country. It is highly important that a separate page is provided for textiles in this package. It is inevitable that textiles become the shining star of the industry in Turkey thanks to the investment supports, free lands, zero taxes etc. The Turkish textile industry has been the most important employment field during the global economic crisis and our country could overcome this tough era thanks to the textile industry.
All these developments motivate the whole industry to organize a new ITM Texpo Eurasia Exhibition in 2013. We hereby would like to share the happiness and proud to organized ITM Texpo Eurasia 2013 on 29 May-01 June 2013 in Istanbul.
We believe to organize ITM Texpo Eurasia 2013 with great success together as usual and contribute to the improvement and growth of the Turkish economy. "
Related News
More News from TUYAP Fairs & Exhibitions Organization, Inc.

Latest News