INDIA ITME 2022
2022-11-17
VANDEWIELES SAVIO shows latest machines in all sectors at ITME INDIA 2022
VANDEWIELE SAVIO team is delighted to welcome its customers again on the next edition of the ITME exhibition, in New Delhi INDIA.
TEXTILE SOLUTIONS TOGETHER

VANDEWIELE SAVIO has always acted as technological leader and innovative player in the textile machinery industry.

'Innovation technology and customer centricity are VANDEWIELE SAVIO's drivers for developing new products. Their innovations aim to impact on the customer's value chain; they want to be together as partners and offer not only innovative products, but also their expertise and solutions able to satisfy customer needs. TEXTILE SOLUTIONS TOGETHER is their philosophy and summarizes our customer-oriented approach', the company announced.

The merger of the Group activities has resulted in a wide range of synergies in the service, care solutions and developments, with benefits for the customers. VANDEWIELE-SAVIO INDIA Is ready to provide the region with high class Textile machines with cost effectiveness and the best support.

With its corporate office located at Coimbatore with a strength of about 250 people and sales and service offices at Coimbatore, Ludhiana, Ahmedabad, Kolhapur and Thane covering the whole product range of the group.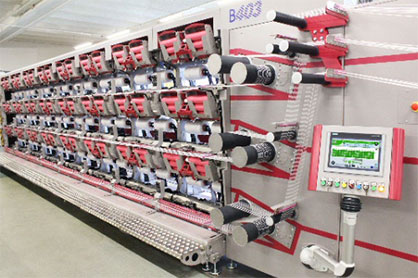 © 2022 VANDEWIELE
This will enforce the support and strength towards the Indian customers and increase the customer centricity.

Bonas, absolute market leader according to VANDEWIELE SAVIO, comes with yet another innovation in Jacquard technology. As markets are rapidly changing, future proof digital machines, with maximum weaving design flexibility, are paramount. The Bonas Ji and JiL range already dominates the Surat region, the center of saree weaving. The newest development in this range, the JiXXL, will be on display at ITME India for the first time and is ready to join this path of great success. Reliability, high productivity, high efficiency, maximum flexibility is now possible with the lowest energy VANDEWIELE SAVIO.
Apart from many traditionally woven carpets on the RCE+ carpet weaving machine, Vandewiele will also promote the digitally controlled RCF machine with Fast Creel, cut-loop machines, and specific machines for weaving light carpets. All will be illustrated by carpet samples.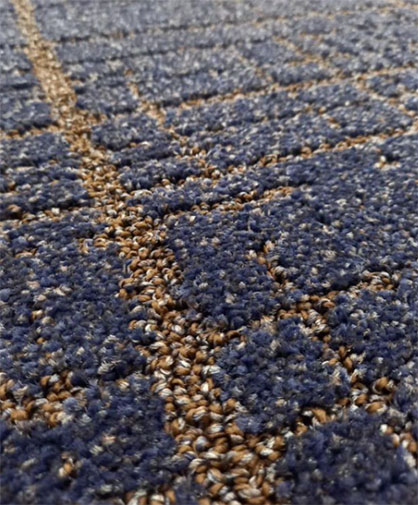 © 2022 VANDEWIELE
The digital control of yarns allows the development of new qualities, a higher production efficiency and a closer follow-up of the machine park. Yarn waste is reduced at the highest production speed. Combinations of cut pile carpets with flatweave as well as sisal look carpets will be presented.

Naturally, also the highest carpet qualities in reed 1000 d/m 10 colours, 1200 d/m and 1500 d/m with up to 5.000.000 points/m2 will be shown.

In tufting, the digital control of pile yarns (active yarn feed, also called IPD) has allowed Vandewiele the development of high definition Colortec 1/10" tufting carpet in 8 colours – or 1/7" gauge, competing with the traditional Axminster carpets. But also, solutions for plain carpets, artificial grass and our Myriad machines for tiles and other applications will be highlighted.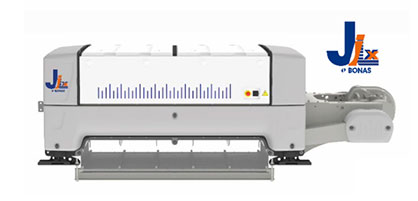 © 2022 VANDEWIELE
Savio is launching the newest SAVIO automatic winder Proxima Smartconer® in a roadmap that will start in India in Dec. 2022 and will land in ITMA MILAN in June 2023.

The new winding machine Proxima Smartconer® is setting the benchmark in Savio automatic winding.

SAVIO has combined the name Proxima with Smartconer®: it stands for a high-tech winding machine, capable of perfectly adapting to demands of Connectivity, Industry 4.0 and Industrial Internet of Things.

Thanks to the innovations, spinners will get a machine featuring high-tech capabilities, for a design with a strong focus on the main benefits for customer's competitive advantage: high productivity, low energy consumption, premium yarn quality, automation, and data connectivity.

On BEJIMAC side, a new singeing machine for knitwear was developed focusing on highest quality levels of singeing, operational flexibility and economy, as well as tension-free fabric transport through the machine. This new product targets strongly growing demand in knitwear singeing.

With respect to woven fabrics, VANDEWIELE SAVIO will also be proud to present the new developments made in order to substantially reduce the gas consumption while offering high intensity singeing.

For towels shearing, visitors will be interested to see how BEJIMAC is coming back to its leader position!

For carpets VANDEWIELE SAVIO is happy to present the new autonomous shearing machine, the ATSH. This machine is an example of the capacity to listen to their customers needs by developing new technologies reducing the customer dependency on qualified operators.

Superba, already the leader in heat-setting with saturated steam under pressure thanks to their well-known TVP3, is now offering their hot-air heat-setting solution.

This triple-layer heat-setting process provides an unequaled level of evenness and a highly homogenous fixation characteristic to the yarn, as well as stain resistance or enhanced bulk. The DHS3 line offers a high energy saving process in a reduced floor-space.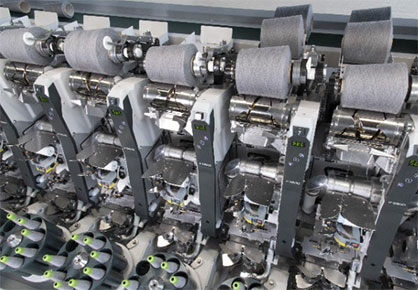 © 2022 VANDEWIELE
To complete their range, SUPERBA is also introducing their B403 automatic winder. All the Vandewiele machines can be connected through cloud computing to the

"TEXconnect" supervision system to comply with the Factory 4.0 concept.

"Our customers have the capacities to develop designs and create real art. Therefore, we are also looking forward in exchanging ideas with them. Let this ITME exhibition be a meeting point for everyone in the textile business: weather active in weaving, tufting, yarn extrusion, heat setting or finishing", is VANDEWIELE SAVIO's message to trade fair visitors.

Related News
Latest News INDIA ITME 2022
More News from N.V. Michel Van de Wiele, Carpet and velvet weaving machines

Latest News