INDIA ITME 2022
2022-11-04
Stäubli presents the latest in Jacquard technology at India ITME 2022

S3260 electronic rotary dobby © 2022 Stäubli
India ITME is the most important market event for technology providers serving the Indian textile manufacturing industry. The trade fair will be held for the eleventh time from 8 - 13 December 2022. India is a global leader in textile manufacturing and home to a wide spectrum of players covering the entire textile processing chain.
India ITME 2022 gives the Indian players an opportunity to come together, discover the latest solutions for processing textiles, and meet with their suppliers. Stäubli will be there at Booth C1/ H15, presenting its latest high-end technologies, machinery, and solutions that provide weaving mills with impressive benefits, including energy-efficient solutions and new advancements in Jacquard weaving.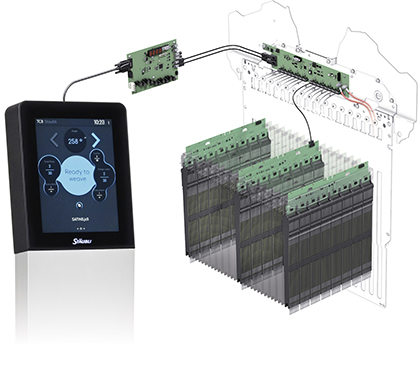 TC8 controller with Noemi electronic architecture © 2022 Stäubli
Stäubli is a leading supplier of Jacquard technology around the world. Indian mills rely on Stäubli solutions for weaving all sorts of Jacquard fabrics, from home textiles to technical fabrics, narrow to large-format applications, and apparel fabrics, particularly for saris. In fact, it's difficult to imagine a Jacquard weaving mill without a solution by Stäubli. Stäubli Jacquard machines have become a central element in mills that demand high productivity and top quality because they deliver a broad range of decisive benefits: top energy efficiency, the highest production speeds, minimum vibration thanks to optimally balanced kinematics, the TC8 controller, NOEMI electronics architecture for unmatched reliability in data transmission, and the recently launched MX PRO modules that provide energy savings and reliable hook selection for all kinds of woven fabrics. Visitors to the Stäubli booth are welcome to discover the latest in Jacquard technology and learn all about solutions that will take them a step further towards sustainable production.

High-speed frame-weaving solutions with low-maintenance transmissions

As the link between the shed formation solution and the weaving machine, the transmission is a vital link in any frame-weaving installation. Transmissions must reliably handle a great many loads and forces. Committed to continuous improvement, Stäubli has further developed its range of transmissions, now offering the e32/33 for low-mounted dobbies & cam motions and the de82/83 for top-mounted dobbies. With sealed and patterned bearings, these new transmissions require hardly any maintenance. They enhance the performance of the overall installation, be it weaving machines operating with dobbies like the S3000 / S3200 electronic rotary dobby series or with cam motions like the S1792. Visitors to the Stäubli booth will learn about the latest frame-weaving solutions and get a very good idea of the operational performance and running speeds.

SX PRO Jacquard machine - a solution for higher power efficiency and lower energy consumption in every Jacquard weaving mill. This new model among the broad range of Stäubli Jacquard weaving solutions will seduce many mills with its incorporated proven technology of the predecessor Stäubli Jacquard machines as well as several innovations to reduce energy consumption: low-friction design of the MX PRO module, power supply fully integrated into the machine itself, and a new ventilation system with optimized temperature monitoring. Equipped with up to 2,688 hooks, the SX PRO Jacquard machine is perfectly adapted to the needs of the Turkish market, where matress ticking, terry cloth, apparel fabrics and upholstery fabrics are produced.

Stäubli warp-tying solutions for any kind of yarn, from silk to cotton, wool and PP tape

Warp tying is a crucial process in most weaving mills. Stäubli is presenting its TOPMATIC warp-tying machine for very fine yarns and its latest warp-tying solution, the TIEPRO tying machine featuring a completely new yarn separation principle with cones. Introduced in 2019, the TIEPRO has already convinced numerous warp tying specialists with its ease in use and the fact that it requires neither oil bath, nor spare needles which results in continuous availability in the mill. It offers easy start-up by automated docking to the warp and processing of the warp to be knotted. The screen guides the operator, so new staff can easily learn how to run the machine. A standalone advantage of the TIEPRO tying machine is the exclusive auto-reverse function: If a double end is detected, the machine automatically reverses and redoes that yarn separation step. This process takes place instantaneously and before the yarn is cut – a unique outstanding feature that supports quality fabric weaving.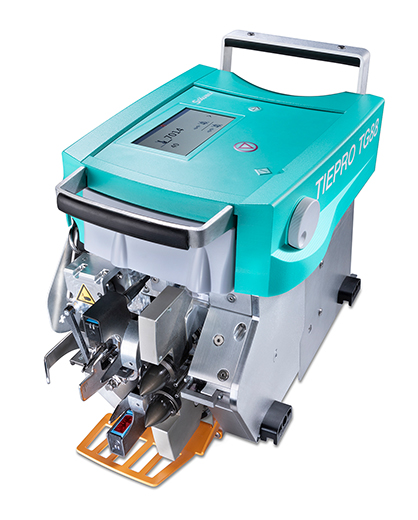 TIEPRO warp tying machine © 2022 Stäubli
Related News
Latest News INDIA ITME 2022
More News from Stäubli AG

Latest News