Home Textiles
2023-04-13
Special effects for home textiles by Biancalani

© 2023 Biancalani
Home textiles have a number of specific characteristics. Among them, there is size, as height is usually 3.60 meters. The latest real innovation is to apply effects that are well-known and very much appreciated in the fashion world right to home textiles. The thing is, those special effects are usually achieved with machineries that are less suitable for large fabrics. With AQUARIA® by Biancalani Textile Machinery that becomes definitely possible in continuous and open-width.
Special effects used in the fashion industry are finally a real option in the field of home textiles, becoming a brand-new, very competitive alternative. And the more you diversify the better, given that the selling price of original items is ever-increasing. Along with finishing processes aimed at special effects, there are other finishing processes that are absolutely fundamental to improve fabric quality and make it last with its enhanced performances.

One for all, eco-bleach is not optional as fabrics must be bleached before they got printed. The added value of AQUARIA® is the green approach as it uses biodegradable substances instead of pollutants and only this kind of machinery makes this finishing process possible as opposed to the traditional one that uses harsh chemicals. Not to mention the unbelievable but real water and energy savings.

Enzyme washing of smooth cotton fabrics is an anti-pilling process that, again, is fundamental to ensure high-quality results with any kind of cotton. It can be applied to prepare fabrics or on fabrics that have already been dyed or printed to get natural effects such as vintage, peach skin or stonewashed. Furthermore, after print there is an excess of color that must be removed, thus washing is mandatory.

A special effect is definitely the one resulting from enzyme fibrillation and defibrillation on Tencel/Lyocell, an eco-friendly textile fiber derived from eucalyptus trees wood pulp. Tencel/Lyocell is very soft, elastic, breathable and thus very much appreciated in many different fields, namely home textiles, technical fabrics, apparel, safety clothing. Again, enzymes are essential both for Tencel/Lyocell preparation and for anti-pilling. It is quite rare to use Tencel/Lyocell in the home textile field as a very performing finishing machinery is necessary to complete the working process to perfection, but AQUARIA® is definitely ready for it. Besides, further finishing of the product with AIRO 24® ensures excellent results.

Now producers of home textiles can regard AQUARIA® as a great solution for fabric preparation and for those special effects deriving from a careful R&D work and that have been applied only in the fashion industry so far.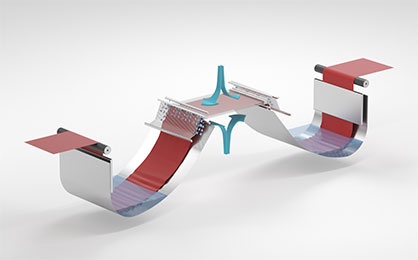 © 2023 Biancalani
Related News
More News from TEXDATA International

Latest News