Dyeing, Drying, Finishing
2014-02-20
Acrylic fibre dyeing with Thies upgrade for Ahlesa Blankets in South Africa

Thies eco bloc X dyeing unit (c) 2014 Thies Textilmaschinen
South Africa – based Ahlesa Blankets (Pty) Ltd has recently taken delivery of a new Thies eco bloc X dyeing unit in an acrylic fibre dyeing application. The new dyeing unit offers additional 25% production, for acrylic fibre dyeing plus significant energy savings, improved flows and colour fastness.
Originally based in Turkey, Mekent Tekstil decided to move its entire operations in 1996 to Atlantis, close to Cape Town, to begin production of acrylic blankets; relying on two used Thies eco bloc units bought locally in South Africa.
Buying the acrylic fibres on the world market, Ahlesa Blankets dyes the fibres in house for the fully integrated operation. Ahlesa dyes and blends the fibre, thereafter spinning the yarn, weaving and finishing the blankets to final make up and packaging ready for despatch. Working three shifts daily, six days a week the company is thought to be the country's largest blanket producer. The company produces a variety of blanket sizes from baby blankets (50 x 125cm) to king size (240 x 270cm) and weights from 460 – 650gm/m².
The new Thies unit was installed late last year and replaces one of the original two eco bloc's following almost 17 years trouble-free operation with Ahlesa. "And," said Operations Manager, Saban Kus, "don't forget that before we took delivery they were already almost 20 years old.
"We have been very satisfied with their trouble-free operation," he added.
The new machine is able to dye four fibre 'cakes', each measuring 1900mm dia and weighing 300kg instead of three cakes in the older unit.
Additionally according to Ahlesa's General Manager, Baris Kuyucu, "the new high temperature machine is greatly improved technically offering better colour fastness, improved flows and significant energy savings."
Producing up to 5000 blankets a day Ahlesa's main market is the domestic chain stores although some export markets are also opening in neighbouring countries such as Namibia and Botswana.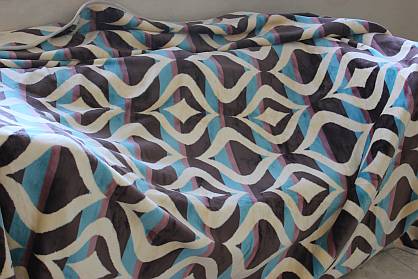 Pic: Blanket made by Ahlesa Blankets
Related News
Latest News Dyeing, Drying, Finishing
More News from Thies GmbH & Co. KG

Latest News