Denim
2023-09-14
Blue-jean Lady AQUARIA® and the three denim treatments

© 2023 Biancalani
Denim is the new black. With consumers increasingly looking to shop consciously and the always-increasing demand for denim, it is crucial to keep pace or, even better, to be ahead of times. The denim treatments made possible – as per quality and savings , we'll go over it in a moment – thanks to the blue-jean Lady AQUARIA® by Biancalani have been presented during right in Milan, the textile machinery business heart of Italy. And they have been described as class-apart. They are Aquastone, Aquaflat and Aquafix.
Biancalani has made many tests on AQUARIA® , always looking for something special, for something more than what already existed. As per denim, the aim was to create treatments by similar or preparatory to the ones made on fabric during the laundry process – laundry processes are meant to work on the dark, raw denim fabric and scratch it, spray it treat it in dedicated machines to get to the finished jeans. That is also in response to requests coming from Biancalani's clients who have already been successfully using , aware of denim growing trend.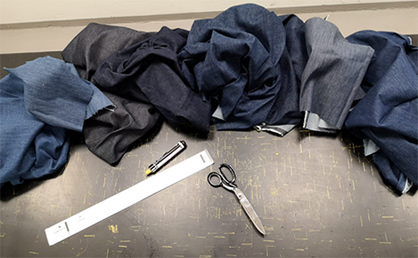 © 2023 Biancalani
Being AQUARIA® a machinery that treats the fabric continuously, it is possible to save time and energy by anticipating part of the treatment, precisely, in an open-width continuous process. That's vital for companies involved in large scale production. Biancalani was contacted by one of the most well-known, historic denim brands, involved in large scale production, precisely for Aquastone, the first of the three denim treatments by AQUARIA®. Aquastone is meant to get to laundries with a fabric that has already been so carefully treated to show a great stonewashed effect and to ensure huge time and energy savings during the following garment laundry processes.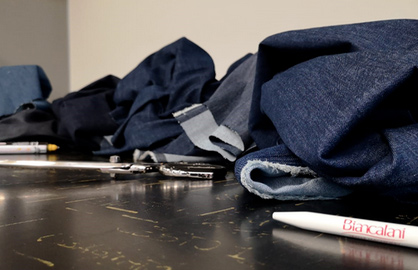 © 2023 Biancalani
Aquastone is a washing process reproducing the final stonewashed effect: it abrades the fabric surface while leaving the bottom side untouched and thus bringing out the real fabric structure. That surface-treatment prevents from reducing the tone of color, on the contrary it leaves enough color. Thus, the piece of clothing can be further treated so to reach the typical worn effect on the seams and the necessary shading, and the accentuated three-dimensionality which is part of the laundry process. The result is a class apart from traditional mercerizing.
Aquaflat is a process aiming at a new effect that is totally different from traditional products. In this case, current technology allows to get to a smooth, flat fabric that also has the ultimate soft hand. Mercerizing had already transformed fabric processing in 2000, with fabric getting flatter and shinier, but the hand was quite textured and somehow rough. Thanks to Aquaflat, the fabric is flat, but softer and fluffier to the touch.
Aquafix exploits the unique effect created by AQUARIA® mechanical washing, the so-called, unparalleled, mama-wash effect. While the color is preserved, AQUARIA® removes those color parts that are not fixed and completely useless: the necessary part for shading is the only one actually getting to the laundry phase thus allowing considerable energy saving as per laser treatment. Besides, as per color removing, thanks to the eco-bleaching treatment by AQUARIA® it is possible to remove almost 50% of color without using harmful substances.

AQUARIA® brings innovation to the textile world: at the moment, no other open-width continuous machinery for textile finishing does what AQUARIA® does in terms of quality working on fabrics during the washing process. The results have been described by textile experts as class-apart and it seems AQUARIA®, the blue-jean Lady, is truly a step forward: from the dark, raw denim to a perfectly pre-worked flat fabric with visible pattern that could be used as it is and that is ready to be drawn on during the laundry process.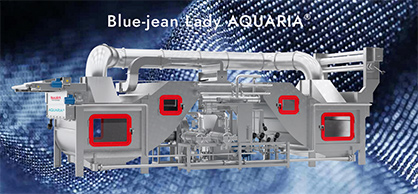 © 2023 Biancalani
Related News
More News from TEXDATA International

Latest News