Dyeing, Drying, Finishing
2022-11-21
Neuenhauser Group acquires the business unit "Textile Machinery" of Ontec
A strong portfolio for the future – Effective from 01.11.2022, Neuenhauser Group has taken over the business unit "Textile Machinery" of Ontec in Naila/Bavaria. With this acquisition, Neuenhauser Group is expanding its product portfolio and competences in the field of textile machinery.
Ontec's coating and scrim systems for technical textiles optimally complement the existing Neuenhauser product line in the field of winding technology.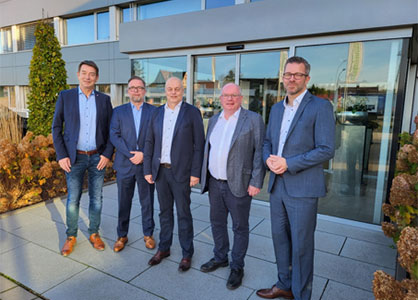 v.l.n.r. Wilhelm Langius, Jan Scholte-Wassink, Helmuth Gossler, Jürgen Lämmerhirt, Lutz Wolf (CEO Neuenhauser Group) © 2022 Neuenhauser Group
"We are pleased to be able to continue and expand innovative products and work with a competent team under the brand Neuenhauser Ontec" says Wilhelm Langius, Division Manager Textile Machinery.
Related News
Latest News Dyeing, Drying, Finishing
More News from Neuenhauser Maschinenbau GmbH & Co. KG

Latest News