Digital Printing
2017-07-26
Allegorithmic's Substance Designer will support AXF
X-Rite Incorporated, a global leader in color science and technology, and its subsidiary Pantone LLC, today announced that Allegorithmic's material authoring tool, Substance Designer, will natively support the Appearance Exchange Format (AxF™) in September.
Developed by X-Rite, AxF is a vendor-neutral format that enables the communication of all aspects of a physical material's appearance – color, texture, gloss, refraction, translucency, special effects (sparkles) and reflection properties – in a single, editable file to improve design virtualization. AxF allows Substance Designer users to create physically correct, virtual materials that reduce design time and offer the most compelling, photorealistic 3D images possible. X-Rite and Allegorithmic will showcase the AxF integration in Substance Designer at SIGGRAPH 2017, July 30 – August 3 in Los Angeles.

AxF is the foundational component of the X-Rite Total Appearance Capture (TAC™) ecosystem, a solution that brings a new level of accuracy and efficiency to the capture, communication and presentation of physical materials in the virtual world. Traditionally, the capture and rendering of complex materials such as special effects paints, meshes and synthetic fabrics have been a time-consuming and manual process. TAC addresses this challenge with a new level of precision in material scanning coupled with an ability to share the resulting data, via AxF, across an expanding set of virtual design tools like Substance Designer.

"Integration of real world materials has always been the missing link in virtual design," says Dr. Francis Lamy, Executive Vice President and Chief Technology Officer, X-Rite and Pantone. "The TAC ecosystem and AxF give designers an entirely new way to achieve this goal. We're excited to partner with Allegorithmic in expanding the capabilities of Substance Designer and give users the ability to create increasingly complex textures and imagery."

"The ability to enhance scanned materials with procedural elements is the ultimate way to produce versatile, virtual representations of materials," said Dr. Sébastien Deguy, Founder and CEO, Allegorithmic. "By making our Substance tools compatible with TAC and AxF, we are giving our users access to an incredible system for achieving physically accurate, professional-grade and customizable digital materials."

Substance Designer is the leading PBR material authoring tool for artists and designers. With roots in the entertainment industry, Substance Designer allows users to create and customize virtual materials with photorealistic results, whether they are starting from scratch or from a high-quality scan.
TAC captures physical material appearance at SIGGRAPH

SIGGRAPH 2017 attendees can see a demonstration of X-Rite's award-winning Total Appearance Capture (TAC) ecosystem and the AxF integration with Substance Designer at the X-Rite booth 1104. Attendees will see how AxF files can be used within the Substance Designer software and applied to rendering and animation.
The TAC ecosystem is comprised of the TAC7 scanner, PANTORA™ Material Hub desktop application, and Virtual Light Booth (VLB). Physical material samples are scanned using the TAC7 scanner, which captures appearance properties digitally to create AxF files that store appearance data. The files are stored, managed, viewed and edited in the PANTORA desktop application.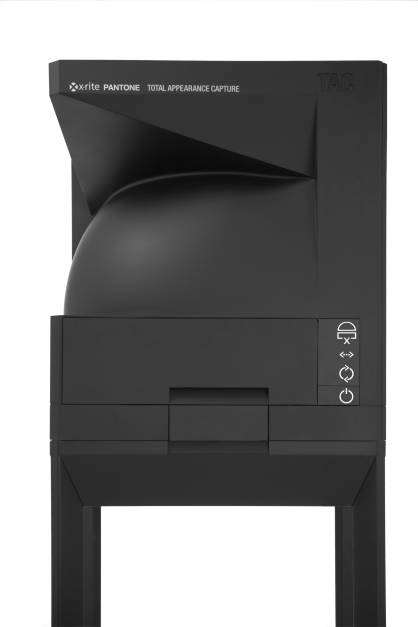 TAC7 scanner (c) 2017 X-Rite
The AxF files can be shared with Product Lifecycle Management (PLM), Computer-Aided Design (CAD), and state-of-the art rendering applications including Allegorithmic's Substance Designer, Autodesk VRED™ Professional 2017, Lumiscaphe Patchwork 3D, Luxion KeyShot® and NVIDIA Iray®.

The Virtual Light Booth is the industry's first immersive 3D visualization environment for evaluating material appearance. It allows users to accurately and efficiently visualize and compare 3D digital material renderings side-by-side with physical samples. The VLB combines X-Rite's SpectraLight QC professional light booth technology with a high-brightness, color-calibrated LCD display, color management technology, and motion tracking sensors. This allows the VLB viewing environment to control all parameters that influence the perception of appearance from illumination to contextual to observational factors. With the VLB, design teams can easily vary these conditions to see changes in material performance. This helps ensure consistency between digital prototypes and final physical products and empowers designers to make more informed material selection decisions reducing approval cycles and accelerating time to market.
Related News
Latest News Digital Printing
More News from X-Rite Europe GmbH

Latest News