Denim
2023-09-21
ISKO takes its latest step in support of emerging british fashion designers this london fashion week - Priya Ahluwalia, Chet Lo, Aaron Esh and Masha Popova
Pioneer and denim innovators, ISKOTM take their latest step in becoming the trailblazer for new material solutions in the fashion industry.
This London Fashion Week SS24 season, ISKO provided their latest innovation in material science to a new wave of top emerging British designers of the moment - Priya Ahluwalia, Masha Popova, Chet Lo and Aaron Esh.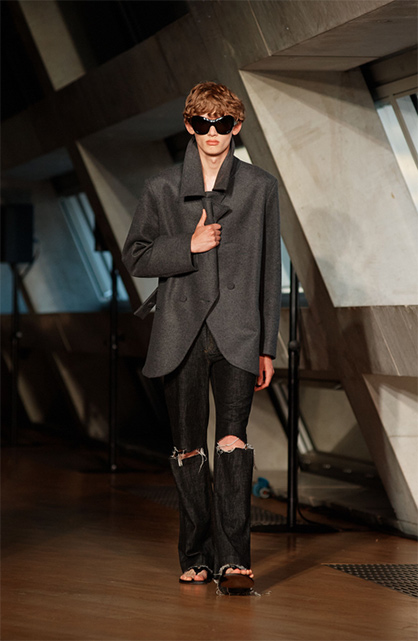 © 2023 AARON ESH
Alongside supplying their latest denim fabrics, ISKO opened its doors to its London-based product development centre, Creative Room London, for finishing and washing of their final designs as well providing expertise and knowledge in denim design and construction.

PRIYA AHLUWALIA

For Ahluwalia's Spring Summer 24 collection, entitled Acknowledgements, Creative Director and founder Priya Ahluwalia's research led her on a journey of creative rediscovery.

ISKO's Ctrl+Z fabric, which is made entirely from recycled and regenerated fibres, was used to create the flower motif denim showcase within 3 looks across jeans and jackets. This development contains no virgin cotton and uses a minimum of 60% recycled materials and the remainder is regenerated cellulose fibres while still giving a look and feel identical to traditional denim and speaks to Ahluwalia's ongoing commitment to sustainable design and business practices.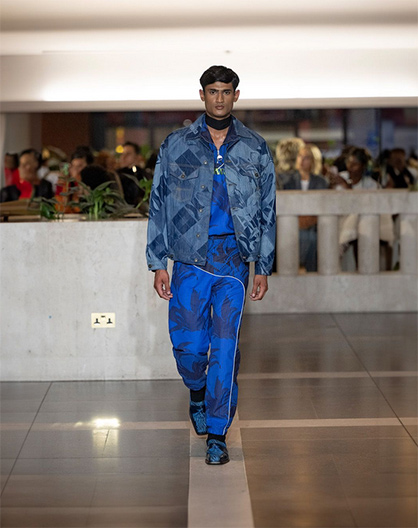 © 2023 AHLUWALIA
CHET LO

This season, Chet Lo took an active stand in reclaiming the power lost during his youth, healing the childhood wounds inflicted by a society that sidelined differences instead of celebrating them.

ISKO's Ctrl+Z fabric and specialist lasering techniques from ISKO's Creative Room was used across three looks featuring signature Chet Lo erotic laser prints across denim bottoms.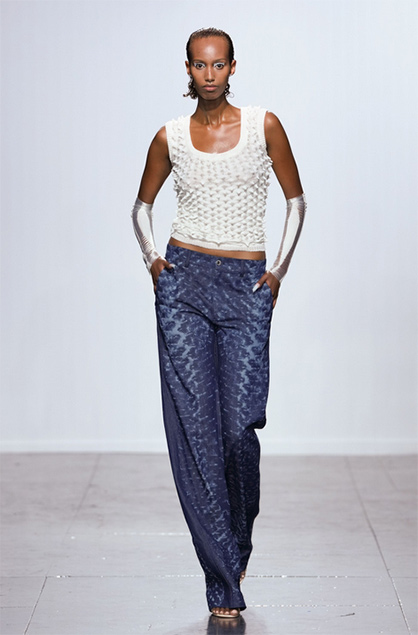 © 2023 CHET LO
AARON ESH

The SS24 season marked the brand's debut at London Fashion Week, a homecoming of sorts for Esh, who was born and raised in the heart of the British capital, studied at Central Saint Martins and became a finalist at the LVMH Prize earlier this year. The early impulses of Aaron Esh remain steadfast: clothes that combine establishment rigour with the rebellious spirit of youth culture, devotedly crafted for a generation who feels somewhere in-between.
Aaron created bootleg denim ripped jeans made entirely from ISKO Denim using R-TWO50 fabric, which comprises a minimum of 50% pre and post-consumer recycled content. The designer noted the addition of denim accompanied by leathers add a new level of depth to their latest collection.

MASHA POPOVA

Masha Popova's sophomore catwalk outing, MONSTER – was a "seasonless" offering that combines Autumn Winter 2023 and Spring Summer 2024 – is a thrilling, adrenaline-fuelled ride. Seated in – or spectating – a monster truck, to be precise.

Masha continued her obsession with denim manipulation, using various finishings including over-dyeing, flocking, patchwork, scratching and fraying in a variety of colours from vibrant green to silver across jeans, tops and jackets, all developed with the help of ISKO's Creative Room, London.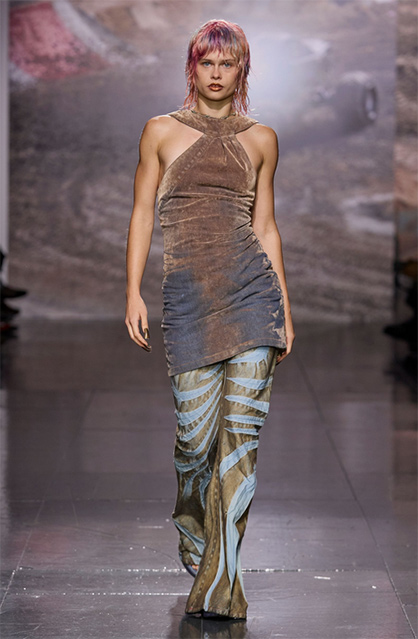 © 2023 MASHA PAPOVA
"For us this Spring/Summer 2024 season it's important to continue to build on our passion for supporting the next wave of young creative talent not only in the UK but globally on their journey to becoming more sustainably minded and we're proud to support Priya Ahluwalia, Chet Lo, Aaron Esh. Marsha Popova and Dilara Findikoglu this London Fashion Week. We see the value in working with brands at various points along their sustainability trajectory - from those who are just embarking on the journey to those who have sustainability at the core of their brand DNA. As pioneers and thought leaders in the denim space, we see our input as valuable at whichever step of the journey the designers are on - we feel passionate about making a real change to the industry as a whole and working with designers such as Priya, Chet, Aaron, Masha and Dilara really helps us on our path to achieve this" - Keith O'Brien, ISKO's Senior PR Manager.

Related News
More News from TEXDATA International

Latest News