Composites
2018-01-25
KARL MAYER presents innovative solutions relating to the topic of reinforcement layer fabrics at JEC World
The company KARL MAYER Technische Textilien GmbH, a competent and committed partner of the composite industry, will also be exhibiting at the upcoming JEC World to take place from 6. to 8. March 2018 in Paris. This machine manufacturer invites the trade fair visitors to come and see its stand Q58, Hall 5, in Paris Nord Villepinte Exhibition Center.
Here the company will be displaying its high-performance composite machines, namely: the COP MAX 4 as a flexible allround model for producing multilayered, multi-axial structures with angles ranging between maximum +20° and -20° and the COP MAX 5 especially designed for processing carbon fibers.
The COP MAX 5 can manufacture layer fabrics with a very low weight per unit area; the machine works either with an on-line or an off-line feeding system of the fiber material. For the spreading of the fiber tapes for the off-line version, KARL MAYER Technische Textilien can offer the fiber spreading unit UD 700.
Information on the high-performance machines is available as video presentation, print media to read, and also during discussions with the KARL MAYER specialists. One main focus will be on the topic of glass layers with defined carbon fiber reinforcements. The tailor-made reinforcement textiles are produced on multi-axial machines with filler thread shogging device during the so-called "VARIOLAYING" procedure.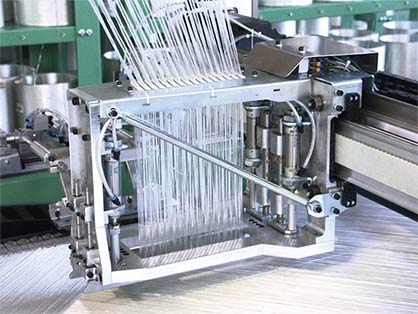 Production of a glass layer textile on the COP MAX 4 (c) 2018 KARL MAYER
Related News
More News from KARL MAYER Textilmaschinenfabrik GmbH

Latest News