Associations
2023-02-24
IVGT was at the second transnational meeting in Portugal

The AddTex project is progressing successfully. In the picture: The participants of the 2nd Addtex Meeting at CITEVE, Portugal. © 2023 IVGT
Digital and green skills are of vital importance for the future! Together with the main players in the textile chain - from students to employees in the company - these must be newly developed, then trained, further educated and finally implemented. In the three-year EU project Addtex, an Erasmus Plus program funded by the European Union, 12 partners from 10 EU countries are currently developing a new and tailor-made virtual training program for the textile industry.
The special focus is on technical textiles. The aim is to develop new green, digital and intelligent qualifications with which the European textile industry can be made fit for a green, digital, innovative future.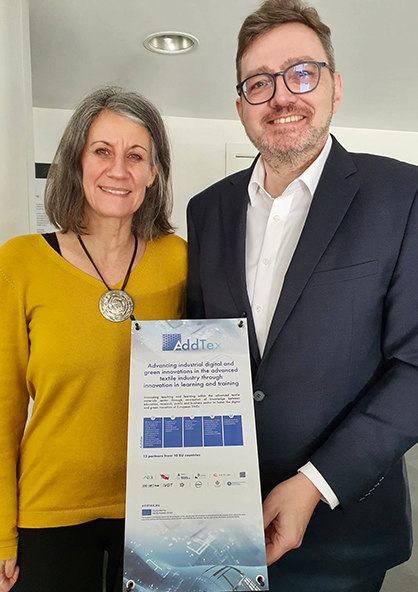 The aim of the EU project Addtex is to promote innovative teaching and learning in the European textile industry. Together with eleven other partners, the IVGT e.V. took part in the second Addtex Meeting at CITEVE, Portugal. In the picture: Iris Schlomski and Stefan Schmidt, both IVGT e.V. © 2023 IVGT
On January 31st and February 1st, 2023, the ADDTEX consortium met at the technology center CITEVE in Vila Nova de Famalicão (Portugal) for their second meeting. The partners CITEVE, Portugal, CLUTEX, Czech Republic and TUS, Ireland, first presented the activities and results of work package 2. All project partners had previously carried out research activities in their countries, involving 47 vocational training institutions, 55 universities and 272 textile companies. The aim was to identify challenges and opportunities related to green, digital and smart technologies and to identify areas of innovative impetus for the industry through learning and training.

The meeting continued with presentations on work package 3 from the other partners UB, Sweden, UPC, Spain and TUS, Ireland. Work package 3 is now about the development of the AddTex "Digital Skills and Sustainability Skill Academy" (Academy for digital skills and competence for sustainability). New curricula, training modules and educational resources related to innovation in textile materials will be developed. The new, pan-European digital "Academy" will be aimed at engineers and specialists, technicians and university graduates as well as managers and mentors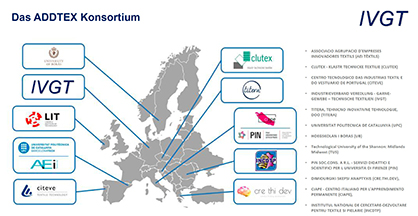 The project consortium is made up of 12 universities, colleges and textile trade associations: - AEI TÈXTILS – Associacio Agrupacio d´Empreses Innovadores Textils, Spanien - CLUTEX – Klastr Technicke Textilie, Tschechische Republik - CITEVE – Centro Tecnologico das Industrias Textil e do Vestuario de Portugal , Portugal - IVGT – Industrieverband Veredlung – Garne – Gewebe – Technische Textilien, Deutschland - TITERA – Tehnicno Innovativne Tehnologije, Doo, Slowenien - UPC – Universitat Politecnica de Catalunya, Spanien - UB – Hoegskolan i Boras, Schweden - TUS – Technologica University of the Shannon: Midlands Midwest, Irland - PIN – Servizi Didattici e Scientifici per l Universita DI, Firenze, Italien - CRE.THI.DEV – Dimiourgiki Skepsi Anaptyxis, Griechenland - CIAPE – Centro Italioano per l´Apprendimento Permanente, Italien - INCDTP - Institutul National de Cercetare-Dezvoltare Pentru Textilesi Pielarie, Rumänien © 2023 IVGT
On the second day of the meeting, TUS presented the various possible e-learning platforms. In the brainstorming session that followed, the most suitable platform for the project was initially pre-selected. Various aspects such as attractiveness, costs and target group were discussed.

The meeting ended with an overview of the state of the art of the different transversal activities: communication and dissemination, presented by CIAPE, Italy, analysis of the surveys, presented by Cre.Thi.Dev. Greece and management aspects presented by AEI Textiles, Spain. More information at: https://www.addtex.eu/
Related News
More News from TEXDATA International

Latest News