Advertorial
2023-03-31
Direct to fabric printing: good for your business, good for the planet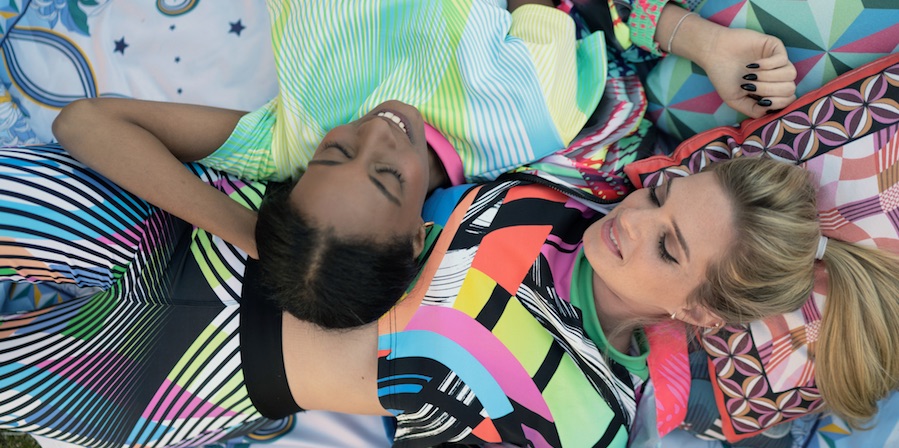 (c) 2023 Kornit Ddigital
According to McKinsey, 71% of fashion producers intend to nearshore operations, and the on-demand production model helps ensure lean production to make those ambitions viable. Digital print technology is key to unleashing creativity, answering the call for more sustainability, more precisely (and cost-effectively) answering consumer demands, and eliminating unnecessary supply chain complexity and risk.
Analog production will likely remain for large-quantity, simple orders, but demand for such orders is shrinking. Producers who need flexibility in their operations, diversification to answer changing market dynamics and challenges, and profitability from any order increasingly realize digital isn't simply a nice tool to have, but an essential one
People expect to find exactly what they're looking for, buy at the push of a button, and have it in a day or two. Digital textile printing is the only realistic way to answer that demand, quickly, without overproduction or complication. (30% of production is currently going to waste, and the digital on-demand production capability is an effective means of avoiding inventory creation.) It means producers can create more products, and more diverse products and applications, with less resources. It means supplying by demand rather than producing for inventory, and planning and adjusting in real time.
( McKinsey Report: )
Revamping fashion sourcing: Speed and flexibility to the fore
Why Kornit
Kornit Digital offers the only pigment-based digital direct-to-fabric system with inline fixation and curing, enabling a single-step, single-operator process to deliver durable, retail-quality, ready-to-ship impressions on a wide variety of fabrics, in any quantity. Our customers often credit the system with enabling fast, low-cost fulfillment of designs without limitation of graphics or color on natural fabrics, providing an alternative to dye sublimation for polyester to meet the demands of a B2C operation.
Used in conjunction with Kornit's proprietary NeoPigment™ Robusto ink set, Kornit production systems are OEKO-TEX ECO PASSPORT certified, GOTS approved, and BLUESIGN certified to meet the highest sustainability standards, while the Softener solution ensures a soft hand-feel to meet the needs of even the most discerning fashion designers, as demonstrated by an eclectic group of designers participating in our series of Kornit Fashion Week events, which saw creators bring both fashion and home décor collections from design to reality in mere weeks using this on-demand production technology.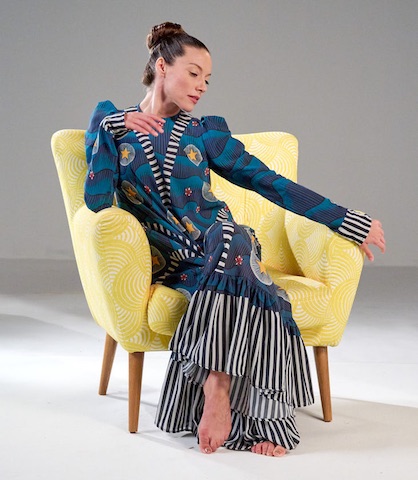 (c) 2023 Kornit Digital
As outlined in Kornit's 2021 Impact Report, a life cycle assessment of Kornit Presto S demonstrated the system uses up to 95% less water and 94% less energy relative to contemporary screenprinting solutions, while producing up to 83% fewer greenhouse gas emissions.
By enabling fast, on-demand fulfillment, producers can create samples at the push of a button, and need never produce excess inventory; this is enabling Kornit users to establish profitable onshore and nearshore operations, including in such high-cost urban centers as London, New York, and Los Angeles. This is ideal for a consolidated "microfactory" model that incorporates the complete end-to-end production of finished goods under one roof, while inline pretreatment of materials helps mitigate reliance on sourcing pretreated materials, and in some cases enables custom printing of unique materials provided by the designers, brands, or end-consumers themselves.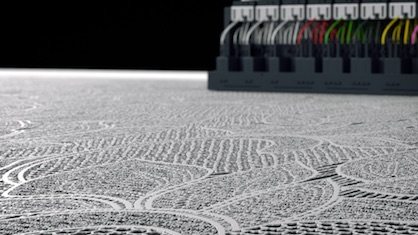 (c) 2023 Kornit Digital
"Total flexibility, and the quality is just outstanding"

Based in Portugal, Blur offers full production services to fashion brands, from printing and embroidering, to pattern development and prototype manufacturing, to full production of collections. They also provide direct-to-consumer and dropship services, making high-quality fulfillment accessible to a large and growing customer base.

Blur understood that while dye sublimation offered brilliant, durable impressions for polyester and poly-blend sportswear, home textiles, and soft signage, there was increasing demand for natural materials. This drove them to add Kornit's direct-to-fabric (imprinting rolls of material, to be cut and sewn for various applications or as custom-designed fabric sold as it) digital print capability, enabling a broad range of product offerings for their customers—including the production of new samples within 30 minutes.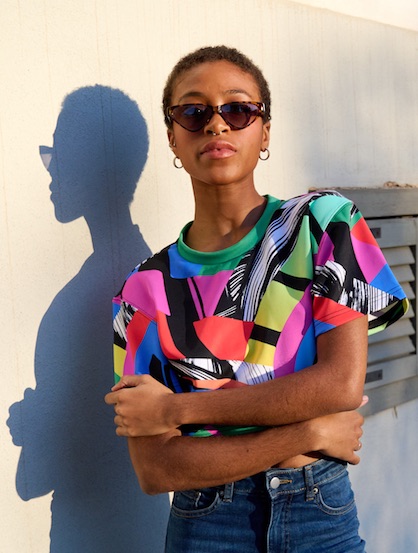 (c) 2023 Kornit Digital
"Kornit is the most eco-friendly solution on the marketplace, since it uses 100% biodegradable inks," says Blur Founder and CEO Mariano Dias. "Our printers now run 24 hours a day. We can produce all volumes from one piece to large quantities, but our main order sizes are 500 pieces. Kornit's printers give us total flexibility, and the quality is just outstanding. Today, we have come clients who only want to print with Kornit technology because of that."

Next-gen capabilities

Kornit's state-of-the-art Presto MAX system changes the game as the first digital direct-to-fabric print system offering white-on-black impressions. It delivers 3D effects, to emulate screen, vinyl, embroidery, and other graphic effects using a single pigment-based print mechanism.

A digitized marketplace needs digitized production capabilities. Technologies such as screens and dye sublimation have their place – but digital is a complementary solution that enables self-expression (unlimited designs, colors, etc.), creates new opportunities, optimizes production floor operations (eliminating inefficiencies and wasteful overproduction), and better aligns with e-commerce to answer the explosion of creativity taking place worldwide. It handles more complex jobs, and provides superior total cost of ownership by producing more jobs quickly, with minimal setup time and labor, while maintaining consistent high quality. It answers supply chain challenges by enabling localized on-demand fulfillment. And it's cleaner, which is increasingly important to everyone, but especially to younger generations who spend according to their values.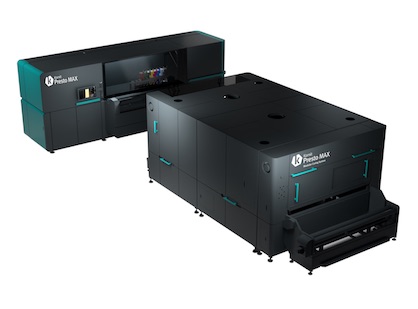 Kornit Presto MAX with dryer (c) 2023 Kornit Digital
To learn more about creating new opportunities, growing your product line, and building a more sustainable operation with transformative digital on-demand capabilities, visit Kornit.com.

Related News
More News from Kornit Digital

Latest News