Yarn & Fiber
2017-01-19
Trevira & Trevira CS: business, activities, projects

Spun-dyed Trevira filament yarns / © 2017 Photos: Trevira
By and large business for Trevira proceeded satisfactorily in 2016. In some segments, however, business was difficult, particularly in specialties, with the result that it will not quite be possible to achieve the above-average performance recorded in 2015.
Business in flame retardant fibres and yarns was to a large extent stable. Strong demand continues for fibres and yarns with a low-melt component, for use in products for interior solar shading or for textiles with sound absorption effect. There are also signs of greater potential for growth in the development of new FR bico-fibres catering for the acoustic panel sector. Likewise, spun-dyed colours are still arousing great interest and this in a wide variety of applications. In fibres, spun-dyed products for the industrial sector registered growth, and the Business Unit Filament extends its range of colours in flame retardants, mainly aimed at the decorative fabrics market. In the office sector, coarse air- textured yarns with wool characteristics are enjoying strong demand. Together with yarn partners, the available portfolio of melange and fancy yarns has been extended, this in response to the current trend for fabrics with natural looks. In terms of volume, there is a slight positive development in Trevira CS Bioactive business.
Despite exposure to considerable price pressure, especially in the hotel sector, the high- end Trevira CS market again witnessed new collections in 2016, mainly incorporated into this sector.
Positive signs are evident, especially in the German hotel market. Here an increasing need for refurbishment is being driven by such factors as generation change and a long-standing backlog in investment, linked to the trend towards holidaying in a relatively secure environment.
Pushing ahead with globalising the Trevira CS brand, Trevira is taking further steps to open up the brand policy for Asiatic manufacturers. These will in future be able to supply Trevira CS fabrics in all regions outside Europe. It will also be possible to do business in European markets with gold and silver customers based in Europe. The stringent quality criteria for Trevira CS fabrics remain unchanged.
In the automotive business there are positive initiatives towards new projects that are being energetically pursued. Trevira's concept of supplying European partners to cater for local industries in non-European countries is again reflected in new business in the automotive sector. An example is in yarns supplied to Mexico, where they are used to make components for headliners, parcel shelves and pillars.
Events, projects and networking
In presenting the Trevira CS brand and new products at sector events, Trevira last year pursued the tried and tested policy of appearing together with customers and partners, both at the large international home textiles fairs and at segment events in important target markets. As well as Heimtextil in Frankfurt once again, the agenda included Münchner Stoff Frühling, MoOD Brussels and Intertextile Shanghai, but there were also special events like Big Show in Oman, Building Healthcare in Dubai, Project Qatar, the Independent Hotel Show in London, not to forget Trevira's own show in New York, the "Trevira CS Jobber Day", now well established.
At MoOD presentation of the high-end new settees by Brunstad again focussed attention on upholstery. Covered with hard-wearing Trevira CS fabrics from the new Pugi collection, the seating displays a high degree of artistic handicraft in Scandinavian design. The Brunstad products will again be on show at Heimtextil on the Trevira stand.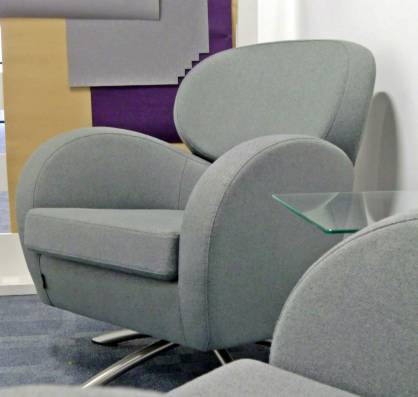 Pic: The new settees by Brunstad / © Photo: Trevira/Brunstad
Highlight of the year was the first ever appearance at Orgatec in Cologne, where the fibre manufacturer, together with six Trevira CS partners, presented textile solutions for the modern worlds of work. The stand concept aroused great attention with its spectacular staging of the separate themes in "Trevira City".
With its fibres for the nonwoven sector, Trevira also made an appearance at IDEA in Boston, together with sister companies from the Indorama Ventures concern. The policy of joint presentation at relevant fairs of expertise within the Group is now well established and will again be reflected in 2017 at the nonwovens exhibition Index in Geneva and at Techtextil in Frankfurt.
Networking of Trevira with customers and partners in the textile chain is further evident in the company's involvement in the Initiative Textile Räume (ITR), which Trevira helped to launch. It is already two years since this sector initiative was established in December 2014 and the subsequent start of the consumer campaign #GibDirSttoff. The fibre manufacturer continues its active contribution to the activities of the association which intend to enliven the market for home textiles and enhance their appeal to end users. At the end of November 2016 Trevira marketing director Anke Vollenbröker was elected chairwoman of the advisory board. "We believe we can set things in motion, if as many industry partners at every level as possible join in, from the furnisher and supplier, to manufacturers, to dealers and editors. The more they join us, the more we can achieve".
In 2016 Trevira participated or the first time as brand partner in the prestigious Finest Interior Award, which attracts great attention in the furnishing sector. This competition honours the work of architects, interior designers and high-end outfitters, who can compete with up to three projects for an award in various categories. These include "Trevira CS Residential" within the framework of the Finest Interior Award:private and "Trevira CS Contract" within the framework of Finest Interior Award:contract. The panel of judges is made up of industry experts and Trevira is represented by marketing director Anke Vollenbröker. Trevira is here consciously seeking to become involved in awards to textile furnishing in the residential market, evidence that many Trevira CS collections are increasingly finding their way into the private sector, thanks to their high-value design and good care qualities.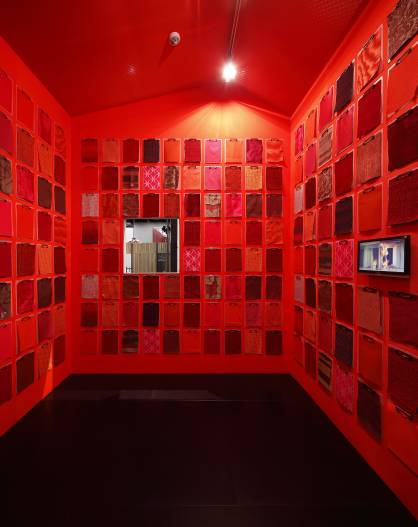 Pic: Trevira City at Orgatec: Trevira House with fabric swatches
Heimtextil 2017
At this year's home textiles fair Trevira has been devoting six "decoration islands" to mobility, a theme that for some years now has been a megatrend in society and is being driven further today by growing globalisation. In many respects mobility forms the basis of our lives and economic activity. This means there is also a search for suitable materials that can stand up to the varying demands and forms that this trend takes. Safety and comfort, together with design and performance, flexibility too, constitute only some the features sought after. This is exactly what Trevira has set as the theme of its current Trevira CS fabric competition.
In addition Trevira has been presenting the experimental work of students Andrea Böttcher and Dominyka Sidabraitė, whose final degree assignments have gained prizes and in which they have used Trevira yarns.
The filament spun-dyed range and products for automotive interior design have also been on Show.
Related News
More News from Trevira GmbH

Latest News