Spinning
2014-10-02
Schlafhorst supplies their most cutting-edge cotton-spinning mill in Europe to Linz Textil
Linz Textil GmbH in Austria, Europe's leading manufacturer of yarn and textile fabrics, is building a new, ultra-modern cotton-spinning mill in Landeck for producing very fine premium yarns of unsurpassed quality. Schlafhorst was awarded the contract for fitting out the new plant with a tailormade, interlinked solution, delivering high efficiency from the roving frame to the package winding machine.
Highly efficient system solution from roving to bobbin
Linz Textil GmbH has opted for a solution which combines economy and efficiency with the highest quality specifications. "As a European company, we have to impress customers with a level of quality that exceeds all expectations," says Alexander Hofstadler, Managing Director of Linz Textil GmbH. "At the same time, peak productivity is paramount for ensuring commercial success. This is why we chose to build our new cotton-spinning mill with a partner that has comprehensive fibre-to-fabric expertise and in whom we've placed our trust for over 20 years: Schlafhorst."
The fully automated system solution comprises seventeen Zinser 351 2Impact FX compact spinning machines with over 26,000 spindles.
The roving is transferred from the Zinser 670 roving frame to the compact spinning machines via the Zinser FixFlow roving bobbin transport system with CimTrack 1. A fully automated link with the most up-to-date material flow system in the industry connects the compact spinning machines with the latest generation of Autoconer winding machines.
These are equipped with the PreciFX digital displacement technology. The Plant Control System from Schlafhorst provides a constant overview of all production and quality data of the highly integrated yarn production process.
The new cotton-spinning mill will be put into operation in mid-2015.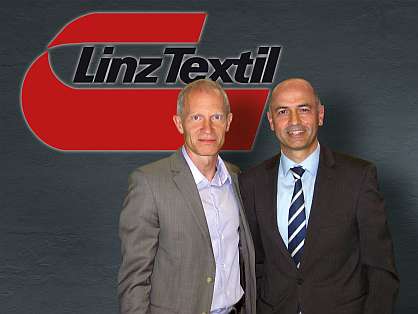 Pic: Christian Ascher, Manager of Linz Textil's Landeck plant and Schlafhorst Regional Sales and Service Director Markus Wurster after concluding the contract
Related News
More News from Schlafhorst Zweigniederlassung der Saurer Germany GmbH & Co. KG

Latest News