Spinning
2014-03-17
SUESSEN will present innovations at Saigontex 2014

SUESSEN EliTe®Compact Spinning System (c) 2014 SUESSEN
At Saigontex 2014 which will take place in Ho-Chi-Minh City (Vietnam) at 10th - 13th April SUESSEN (Hall 6 / Booth 6B - 15 & 17) exhibits together with the local Agent Corvet holding AG. SUESSEN has defined highest goals for the exhibition. The company wants to demonstrate their leadership in compact ring spinning and open-end rotor spinning technology.
Show highlights of SUESSEN will be the EliTe®CompactSet V5, the HP-GX 3010 top weighting arm, the ACP quality package with new PINSpacer NT and the EliVAC-CDS vacuum system. Also important will be their Premium Parts - spinning components and spare parts.
Besides this technolocial demonstration the company wants to explain to their customers the many benefits they provide in terms of improved technology and productivity and how impressive return on investments can be achieved by the acquisition of modernization packages.
Rainer Thum, Head Technical Documentation, says: "We place the Saigontex 2014 exhibition under the slogan '... market oriented solutions' demonstrating our competence in handling and processing natural and man-made-fibres within the ring- and rotor spinning fibre formation process. At SUESSEN, we feel that we are truly able to differentiate our products from those of the competition."
Since its foundation in 1920, Suessen has been of great value for the spinning industry by an immeasurable amount of innovations and developments with lasting effect and influence on the history of spinning. Some historic developments are the TwinDisc for OpenEnd-Rotor SpinBoxes, the SpinBoxes SE-Series for Autocoro Rotor Spinning Machines SE 7 – SE 10, the HP Drafting Systems for ring spinning and roving machines and the EliTe®Compact Spinning System. Worldwide SUESSEN has sold over 6.500.000 units EliTe®Compact Spindles.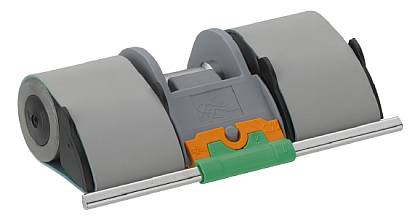 Pic: ACP Quality Package with new PINSpacer NT
Thum again: "We make considerable investments in continuous R&D, combined with applied research that is directly carried out at our customers' mills. This ensures that we are able to further develop our technical and technological components in both an uncompromising and resolute manner. In particular, we focus on universal applicability, improved yarn quality, increased service life, reduced maintenance and proven reliability in industrial application."
EliVAC CDS - Central Duct Solution
The central suction duct is located on top of the ring spinning machine, the vacuum is generated by one motor with filter box. The main advantages are:
Easy and fast installation
No rotating drive shafts, pulleys, belts, bearings…
No individual fans for groups of EliTubes
Less energy consumption by approx. 20%
Less maintenance required
Fewer spare parts required
The yarn quality remains unchanged
ACP Quality Package with new PINSpacer NT
The Active Cradle with the PINSpacer NT improves the drafting process by an enhanced interfiber friction in the main draft zone. The Active Cradle with flexible leading edge and optimised pin position:

improves the values of the most important yarn parameters and
is suitable for all popular top weighting arms
Premium Parts - Spinning Components and Spare Parts for Autocoro Rotor Spinning Machines. SUESSEN shows the new type of
SOLIDRING S43 3.6 for special applications and the
SpinBox SE 9 Performance Kit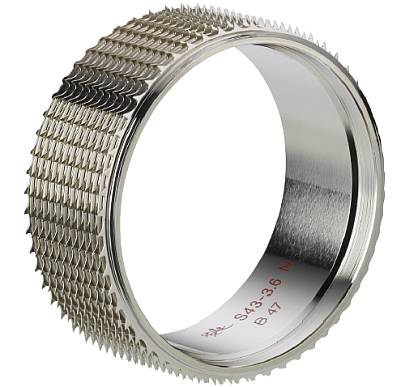 Pic: SOLIDRING S43 3.6 for special applications

Related News
More News from Spindelfabrik Suessen GmbH
Latest News