Shanghaitex-2015
2015-06-16
ShanghaiTex 2015 grandly unveiled

A lot of visitors on the Karl Mayer booth at Shanghaitex 2015 (c) 2015 Adsale Exhibition Services Ltd.
The 17th International Exhibition on Textile Industry (hereinafter as "ShanghaiTex 2015"), the prime biennial event of the industry is unveiled today (15-June) at Shanghai New International Expo Center, Pudong, Shanghai, PR China. ShanghaiTex is one of the world's most prestigious textile machinery exhibitions and the largest one in Asia in 2015. ShanghaiTex 2015 focuses on the new economic growth point of textile industry, including the application and development of sportswear, digital print and denim products.
Going Green with Automation, Creating Sustainable Solutions for Textile Industry
ShanghaiTex 2015 covers 9 exhibition halls with an exhibition area exceeding 100,000sqm, accommodating over 1,000 exhibitors from over 23 countries and regions to present world-class textile machinery and the latest technology, as well as indicating the new demand of textile and garment industry. The 4-day show is expected to have over 60,000 professional trade visitors and buyers from over 80 countries and regions in attendance. This textile feast of cutting-edge technology and fashion reveals future development trend of the industry, which must be a fruitful journey to all visitors.
Renowned exhibitors to display the latest equipment and technology
ShanghaiTex 2015 covers 7 theme zones, including "Knitting & Hosiery Machinery Zone", "Digital Printing Machinery Zone", "Printing, Dyeing & Finishing Machinery Zone", "Spinning & Techtextile Machinery Zone", "Weaving Machinery Zone", "Spare Parts and Accessories for Textile Machinery Zone", and "The Fashion Sportswear Runway" with full range of professional exhibits. Many renowned exhibitors display the world's leading textile machinery and the latest technology, exploring wide application of innovative textile technology and new growth points, which offers buyers an effective cost-saving information exchange, sourcing and networking platform.
In response to industry trends and market demand, the "Knitting and Hosiery Machinery Zone", which located in Hall W1 and W2, focuses on the latest application of knitting technology, and gathers the leading Chinese and international enterprises, including Groz-Beckert, Karl Mayer, Santoni, Runyuan, Nan Sing, Taifan, Cixing, L.G.L, Terrot, Mayer &Cie, Memminger-Iro, Samsung Knitting Needle, Chemtax, Wuyang (Changzhou), Xingang (Fujian), Jiangsu Jinlong, Yantex, Baiyuan (Quanzhou) etc., aiming to bring the latest industry development and market opportunities to the buyers.
The "Printing, Dyeing & Finishing Machinery Zone", located in Hall W3 and W4, also gathers the leading Chinese and international exhibitors, including: Fong's National Engineering, Tecnorama, Bianco, Corino, Brazzoli, Thies, Erhardt+Leimer, Gofront, Santex, Asia Kingdom, Hsing Cheng, TongGeng, Benninger, Seiren, Jebsen Industrial, ChengFu, Yoantion, JianXin, YingYou, HongTao, HuiSheng, RedFlag, Texpro & Stentex, etc. By analyzing the latest printing and dyeing development in environmental protection and new sustainable solutions, ShanghaiTex 2015 aims at providing cost-effective, efficiency-enhancing and competitive solutions to textile enterprises.
In response to the market development trend, ShanghaiTex 2015 has expanded the "Digital Printing Machinery Zone" located in hall W5 with highlights on the latest digital printing equipment and technology to provide buyers with intelligent energy-saving solutions and fashion apparel trend. Many leading digital printing machinery enterprises will participate in the exhibition, including HongHua (Atexco), Epson, Zimmer, Mimaki, Homer, Printpretty, MS Printing, Kornit Digital, Fujifilm, Reggiani, Toshin, Pirovano, Spgprints, Human Digital, Textalk, JHF, Runtianzhi, etc.
The "Spinning & Techtextile Machinery Zone", located in hall E1 and E2, brings together the industry leaders to showcase the new technology of environmental spinning and techtextile: China Hi-Tech Group, Pacific Mechatronic, Electro-Jet, European Excellent Textile Components, SSM, Loepfe, Truetzschler, Luwa, Savio, Saurer, Uster, Imagin, Rieter, LMW, Murata, Far East Horizon, Yufeng, Oerlikon, Crosrol, Suhong, Hicorp Group, Changzhou Tonghe, Qingdao TianYi, Qingdao Textile Machinery etc.
The "Spare Parts and Accessories for Textile Machinery Zone" and "Weaving Machinery Zone", located in hall E3 and E4, have also gathered representative exhibitors such as Hangzhou Changyi, Wuxi Lanxiang, Jinan Tianqi, Wenzhou Darong, Shanghai TT, Igus, Lamiflex, Wuxi No. 2 Rubber, Rongyilai, Jiangyin Huafang, Qingdao Jinsida, Changshu Textile Machinery, KyangYhe, Gold Fai, Jiayi, Jingda, Wing Singa, HongMing, etc.
Splendid concurrent events to explore hot textile issues
To enrich the trip and experience of the buyers, organizers of ShanghaiTex 2015 have prepared a series of splendid concurrent events with HKRITA, renowned industry organizations and exhibitors, as well as international and local experts. There are 5 thematic conferences on topics including Sustainability, Sportswear, Denim Products, Digital Printing and Business Upgrade, which enable visitors to learn about the latest textile technology and grasp new business opportunities.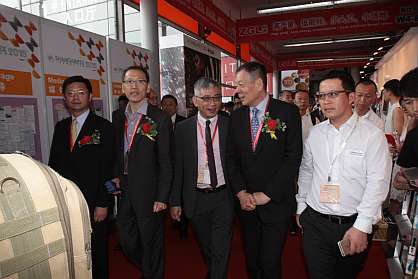 Pic: Mr. Chung, General Manager of Adsale Exhibition, guides VIPs around the halls
Sustainability is the green way of textile industry, the "Sustainable Development of Textile and Fashion Industry Conference" was successfully held today (15-June), inspiring textile manufacturers in overcoming the challenges encountered in the new era of eco-fashion.
To cater for the show highlight of sportswear, digital printing and denim products, there will be "Sportswear Revolution Conference" (15-16 June), "Digital Print Arena" (15-17 June) and "2015 New Textile Wastewater Treatment & Denim Technology Forum" (16-June) to unveil the high-growth potential market segments and provide sustainable textile design and production solutions to industry professionals.
Another 2 events, namely "Get Ready for the Future of Apparel Industry - The Omni-channel Era Forum" and "2015 Asia Investment Forum for Chinese Textile Manufacturers", will be held on 17-June to help enterprises seize trading opportunities and enhance competitiveness for business upgrade and transformation.
"The Fashion Sportswear Runway" at W1C32 showcases the latest sports & functional wear by SANTONI, knitted sports shoes by CIXING, and high-performance rowing suits by HKRITA. Model catwalk shows will be held throughout the event to demonstrate future sportswear trend. Furthermore, the works of "The Fashion•Passion•Innovation Digital Textile Design Contest", supported by Donghua University Fashion Research Center, is displayed during the show. The 6-month contest has received more than 200 works from over 50 universities, enterprises and studios. "Tonghua" of GaoYingying from Zhejiang Sci-Tech University won the Gold Award, "Melting Rock" from Qin Jiahui from Shanghai University of Engineering Science and other 6 works won the Silver Awards; and "Interlacement" of Hu Chengzhi from Shanghai institute of Visual Art and other 11 works won the Bronze Awards. The award presentation was held today, visitors could view the awarded works at ShanghaiTex onsite and enjoy the fusion charm of "Science & Fashion", "Creativity & Design" and "Culture and Technology".
ShanghaiTex 2015 also organized over 30 front-line experts from Shanghai Textile Engineering Society and Dohua University to provide professional consultation to enterprises and visitors. They will discuss the latest technology regarding textile machinery development, technology innovation, environmental protection etc. to provide visitors with solutions of enhancing creativity and competitiveness
Star-Level Buyers Gather to Enjoy This Textile Industry Event
Being a biennial show debuted in 1984, ShanghaiTex is a large-scaled exhibition in China under watchful eye of many textile industry players around the Globe. ShanghaiTex 2015 has been widely supported by professional buyers from textile industry as always. Numerous industry associations have confirmed or intended to attend, including CNTAC (China National Textile & Apparel Council) Underwear Committee, Nanjing Federation of Industry and Commerce Apparel Chamber of Commerce, Jiangsu Textile Popular Color Association, Hangzhou Textile Industry Association, Shanghai Textile Trade Association, Eastern Silk Market China, Wenzhou Printing, Dyeing and Washing Industry Association, Zhejiang Seamless Weaving Industry Association, Fujian Changle Cotton/Lace/Chemical Fiber Association, Hong Kong & Kowloon Spinning Weaving and Dyeing Trade Workers General Union, Taiwan Knitting Industry Association, Vietnam Chamber of Commerce and Industry, etc. There will also be buyer delegations coming from India, Indonesia, Turkey, Korea, Philippines, Uzbekistan, etc to visit ShanghaiTex 2015.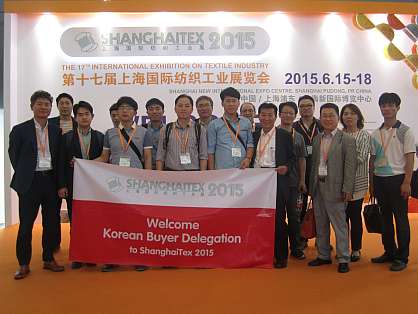 Pic: Associations and enterprises organized numerous delegations to ShanghaiTex 2015
Furthermore, ShanghaiTex 2015 is highly supported by many renowned fashion brands and enterprises. Nike, Li-Ning, ANTA, Jordan, One Way, Xtep, Decathlon, New Balance, Peak, Hosa, Li & Fung, Black Peony, Xielong Group, Teijin, Spring Bamboo Group, Threegun, Hodo Group, Shenzhou International, High Fashion (China), Esquel Group, Shaoxing Digital Printing & Dying, H&M etc. have all confirmed to visit and purchase onsite.
"The 17th International Exhibition on Textile Industry" is sponsored by ShangTex Holding Co., Ltd., China Council for the Promotion of International Trade Shanghai Sub-council, and China Chamber of International Commerce Shanghai Chamber of Commerce; organized by Adsale Exhibition Services Ltd., Shanghai Textile Technology Service & Exhibition Centre, and Shanghai International Exhibition Co Ltd.
Related News
Latest News Shanghaitex-2015
More News from LOEPFE BROTHERS LTD.

Latest News