IDEA 2016
2016-04-07
First time at IDEA in Boston: Trevira fibres for nonwoven applications

Filtration material made from Trevira fibres © Photos: Trevira
Sharing a booth with sister companies from the Indorama Ventures Group, Trevira is making a first appearance as exhibitor at the important international nonwovens trade fair IDEA in Boston. The manufacturer of polyester specialties is taking the global route with its fibre business and ranks among the leading suppliers of fibres for nonwoven applications. The main focus for this business is in the domestic market, Europe, and in North America.
"For us IDEA has, along with INDEX in Geneva, become an important event for the business", says Hartmann Huth, head of the Business Unit Staple Fibres. "We see this platform as a good opportunity to meet up with our important customers and partners, and also to make new contacts and develop new business. North America is also significant for us, because we are dealing here with a developed market and ground-breaking technologies, a market that we are able to service and expand with our specialties and customised solutions."
Customised: PET specialties
With homopolymer fibres there is clear focus on customer-specific developments which can offer evident added value for customers and partners; to which end use the fibres are put to is less decisive here.
Trevira intends to further expand its programme for shortcut fibres, e.g. for paper and filtration materials. These fibre types are also available in a flame retardant variant.
As a specialist in polymer modification, Trevira has recently brought a new development onto the market, one that supplies the fibres with a particularly soft handle. The modification in raw material employed can be used for all polymers and is already commercially available for polyester and PLA. It is anticipated that, along- side technical applications, potential for the new development is expected primarily in the field of hygiene.
-----------ADVERTISING-----------------
------------------------------------------------
Versatile in use: bicomponent fibres
Today's standard fibre programme contains already a whole series of raw material combinations such as PET/Co-PET, PET/PE and PET/PBT. Trevira is currently working on new modifications, in order to offer suitable products to meet the needs and technical demands of customers. These include, for instance, flame retardant modified bicomponent fibre types for technical applications or fine titres for the filtration sector.
The ecological alternative: PLA fibres
In 2010 Trevira introduced PLA fibres into its programme, as part of its sustainability concept, using for this the biopolymer raw material IngeoTM by NatureWorks. This product range is a sustainable alternative to petroleum-based fibres and since then the business has progressed very successfully. The range comprises a series of different fibre types, including bicomponent variants. "Biological degradability and sustainability will continue to be important factors – therefore we see potential for growth in PLA in the future as well and will be further expanding the product range", says Hartmann Huth.
Trevira offers PLA fibres for all classic processing technologies such as carding, spunlace, wetlaid and airlaid. Fields of application are hygiene products and technical end uses, including fresh areas as well: niche products and materials with added functions, food packaging, the paper industry and fillings.
Overview: Trevira Fibres for the nonwovens industry
Short-cut fibres for airlaid and wetlaid applications, e.g. hygiene products or the paper industry
Special types for hydro-entangled nonwovens, e.g. wipes
Bicomponent fibres for thermal bonding, e.g. insulation and filtration materials and also for hygiene textiles and construction materials
Permanently flame retardant fibres for nonwoven applications
Fibres from biopolymers (PLA/ IngeoTM) for nonwovens, e.g. for hygiene, technical applications, the paper industry and for fillings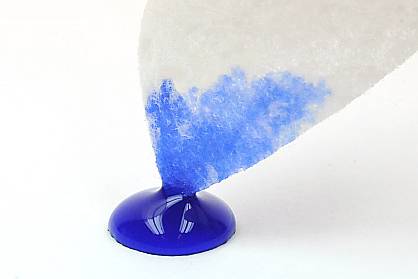 Pic: Nonwoven material made from hydrophilic Trevira fibres © Photo: Trevira
Related News
More News from Trevira GmbH

Latest News