Dyeing, Drying, Finishing
2015-04-23
CHINA INTERDYE and CHINA TEXTILE PRINTING 2015 focussed on sustainability
China Interdye 2015 and China Textile Printing 2015, organized by China Dyestuff Industry Association, China Dyeing and Printing Association, and China Council for the Promotion of International Trade, Shanghai Sub-Council and hosted by Shanghai International Exhibition Service Co., Ltd., was hold at the Shanghai World Expo Exhibition & Convention Center (SWEECC) from April 15th to 17th, 2015.
The 40,000-square meter exhibition area hosted over 600 exhibitors from more than 14 countries and regions. Exhibits included a variety of advanced environmentally-friendly dyestuffs, organic pigments, catalysts, intermediates and environmentally-sound equipment as well as textile printing products and equipment, printing and dyeing automation technologies and materials.
The world's largest dyestuff exhibition continues to lead development trends across the sector
With the rapid changes taking place in the world economy, many kinds of new fibers and blended fabric products are constantly being developed to meet the specific requirements of consumers, which, in turn, boosts domestic demand for high-end dye with better dyeing properties and unique dyeing characteristics.
Environmentally friendly new dyestuff products and new application technologies were presented by well-known domestic and foreign producers including Dystar, Tanatex Chemicals, Huntsman, Yorkshire Chemicals, Pulcra Chemicals, Asahi Glass, Daikin, Lamberti s.p.a, Bozzetto, Rudolf Group, Duo Wen, Zhejiang Longsheng Group  (Lonsen), Run Tu Chemical, JiHua Chemical Industry, Yabang Chemical Group, Wuhan Huali Environmental Technology, Transfar, Dymatic, Anoky, Argus, Merida, JECO (Group) Ltd, Wuxi Haijiang Printing and Dyeing and Jingjin Environmental Protection.
During the exhibition many professional seminars were held concurrently by various industry associations including the China Dyeing and Printing Association, the China Cotton Textile Association, the China Knitting Industry Association and the Color Masterbatch Speciality, Catalyst and Organic Pigment Committees under the China Dyestuff Industry Association.
Leading players including Dymatic, Anoky, Intertek, Testex and Xrite will hold technology sharing seminars where advanced technologies and concepts will be recommended and where a venue will be created for networking opportunities that could lead to meaningful exchanges and collaborations among industry insiders.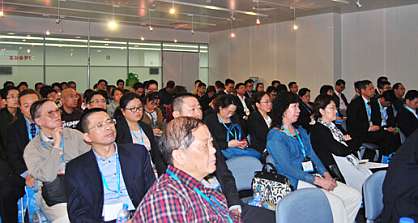 China auxiliaries industry information communication ended successfully
"Chinese Auxiliaries Industry Information Exchange" was held during the fifteenth session of China international dye industry: pigments, textile chemicals exhibition by Textile Auxiliaries Professional Committee of China Dyestuff Industry Association in April 16, 2015 at Shanghai. Shi Xianping, the new chairman of Chinese Dyestuff Industry Association,  Tian Liming, the Vice chairman and Secretary General, Kang Baoxiang, the Deputy Secretary General, Chen Jinhui, the director of Textile Auxiliaries Professional Committee of China Dyestuff Industry Association, Fu Xiuzhu, the Secretary General, deputy director, Chinese chemical news, the person in charge of the enterprise and the domestic and foreign technical experts nearly 150 people attended the Meeting.
"The new trend of prohibited and limited textile chemicals in 2015" was introduced by senior engineer Zhang Jie of shanghai institute of dye. 31 kinds of chemical substances were included in the list of authorised substances by the REACH regulations in 2014. In the new version of Oeko-Tex Standard 100, the latest test standard and the limit value of harmful substances in textiles was introduced and the limit value of original harmful substances was updated.
The list of priority eliminated chemicals and restricted substances in the manufacturing process were published by ZDHC. Related enterprises should pay attention to the trend of the restricted  and banned substances, avoiding the use of toxic and harmful substances in the list. For the revitalization of industry and economic, related enterprises should ensure the quality and safety of product,  encourage innovation and overcome the obstacles of innovation and Transformation. 
Related News
Latest News Dyeing, Drying, Finishing
More News from Tanatex Chemicals B.V.

Latest News