Colloquia / Symposia
2017-03-02
AACHEN-DRESDEN-DENKENDORF ITC calls for papers
The next AACHEN-DRESDEN-DENKENDORF INTERNATIONAL TEXTILE CONFERENCE will take place in Stuttgart on November 30 – December 1, 2017. Now the organizers are calling for papers for experts from the fields of Materials, Chemistry, Finishing & Functionalization, and Machines, Processes & Composites. The deadline for the submission of abstracts for oral presentations is March 31, 2017 and the deadline for poster presentations the August 31, 2017.
With the partner country USA, ADD ITC continues their tradition of offering a platform for new research co-operations and networks beyond Germany by involving annually alternating partner countries.
Aachen, Dresden and Denkendorf, together, lead the International Textile Conference into the Future
Since 2007 the textile research institutes of the regions of Aachen and Dresden have jointly organized the Aachen-Dresden International Textile Conference. Boasting over 700 participants most recently, this conference counts as one of the most important textile conference in Europe. Since 2016, the German Institutes of Textile and Fiber Research, Denkendorf (DITF) is also a co-organizer.
Thus, the Aachen-Dresden-Denkendorf International Textile Conference will take place on a yearly alternating basis at one of the three sites. Parallel to the International Textile Conference, the organizers respectively launch the German Textile Colloquium as a national pendant with changing special themes in the spring.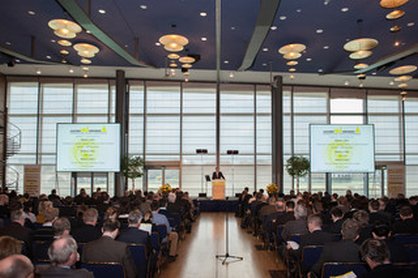 Pic: ADD ITC always attracts a lot of attendees
For further information please visit:
http://www.aachen-dresden-denkendorf.de/en/itc/[p]
Abstracts should refer to plenary sessions and special symposia in the areas of
Development and production of high performance fibers and yarns
Potential of chemical and physical fiber modifications for the fiber industry
Market opportunities through new fiber types, processes and equipment (polymer synthesis, primary spinning, …)
Secondary spinning – new approaches for production
New impulses from the clothing industry, engineering and research for the development of sustainable fibers and yarns (bio-based fibers, new recycling strategies)
Fiber and technology developments for the optimization of the carbon fiber production
New developments and future trends of (high performance) fiber types (e.g. carbon fibers, polyaromatic fibers, ceramic fibers etc.)
Development and production of 3D system-integrated fiber compounds for automotive, construction and architecture

Insight into new advanced materials – simulation and testing systems
Potentials of polymer matrix materials and functionalization
Bionic structures – new developments in building component construction
Shaped fiber compounds – new approaches and developments
Technologies for applications in the automotive industry and construction
New developments in process technology
Medical textiles / Medical technologies

Drug delivery: Functionalization of fiber-based medical devices for the specific support of healing processes
New polymeric biomaterials for implantation and regenerative medicine
Resorbable polymeric implants for the support of regenerative processes
Monitoring and control of healing processes with sensory and actuatory medical devices
Textile-based solutions in personalized medicine for support in therapy
Fiber-based cell scaffolds for tissue engineering
Nonwovens for wound treatment and hygiene
Transfer Session "From Idea to Practice"
Presentation of innovations (e.g. products, technologies, processes) transferred into the industry from research co-operations, especially by IGF/ZIM
Related News
Latest News Colloquia / Symposia
More News from TEXDATA International

Latest News