Raw Materials
2017-10-04
Stocks outside China are projected to grow in 2017/18
World cotton production is projected to increase by 10% during 2017/18 reaching 25.4 million tons. Higher cotton prices during 2016/17 and better cotton price ratios to other competing crops during 2017 planting campaign resulted in expansion of cotton area by an estimated 3 million hectares to over 32 million hectares. During 2017/18 the largest gain in production of 23% to 4.6 million tons is projected in the USA. Production is projected to increase in all other major producing countries during 2017/18, including India, China, Pakistan, Brazil, Francophone Africa and Turkey.
Global cotton mill use is projected to increase at an improved growth rate of 2.7% during 2017/18 reaching 25.2 million tons. In comparison, during 2016/17 world cotton mill use grew by 1.6%. Mill use in China is projected to grow by 1.5% to 8.1 million tons. Cotton mill use is also projected to grow moderately in India, Pakistan, Turkey, Bangladesh, Vietnam and Brazil.
In 2017/18, world trade is projected stable at 8 million tons and USA will remain the largest exporter accounting for 40%, or 3.1 million tons of world shipments. Bangladesh will remain the largest importer in 2017/18 accounting for 18%, or 1.4 million tons of world imports.
Because world production is projected to edge over mill use during 2017/18, world ending stocks could increase moderately and reach 18.7 million tons with stocks to use ratio remaining little changed at 75%. However, ending stocks in China are projected to decline by 1.7 million tons during 2017/18, while outside China stocks are projected to increase by 1.85 million tons.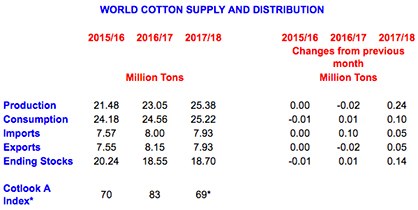 (c) 2017 ICAC
*The price projection for 2017/18 is based on the ending stocks to mill use ratio in the world-less-China in 2015/16 (estimate), 2016/17 (projection) and 2017/18 (projection); on the ratio of Chinese net imports to world imports in 2016/17 (projection) and 2017/18 (projection); and on the price projection of 2016/17. The price projection is the mid-point of the 95% confidence interval: 58 cts/lb to 84 cts/lb.

(Press releases are available via e-mail. For further information, please contact us at Publications@icac.org)

Related News
Latest News Raw Materials
More News from International Cotton Advisory Committee (ICAC)

Latest News