Yarn & Fiber
2022-09-29
Fibre traceability becomes bio-degradable with IFG Bio and integriTEX
IFG Asota and Tailorlux are planning to expand the current portfolio of tracer fibres that make cotton and cashmere traceable. The Polylactic Acid (PLA) is a bio-based solution that is the next level carrier of the optical fingerprint solution, a patented technology of Tailorlux.
The inorganic tracers are customised to a spectral code that has been integrated in PP and PA6 with IFG Asota before. The idea to implement this solution in IFG Bio is consistent with market demands.

Tobias Herzog, Managing Director of Tailorlux: "The pilot line in Linz is the perfect place to test new tracer fibre developments for our customers. It is fascinating that a tracer fibre can be made from sugar cane".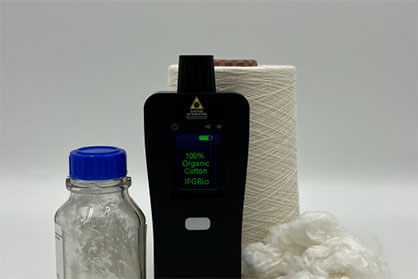 © 2022 International Fibres Group
Simon Riepler, IFG Group R&D Director: "Tailorlux provides a tracer solution working for staple fibres that we have been seeking for many years. I am very excited about this partnership to jointly develop sustainable staple fibre solutions for the future."

Related News
More News from TEXDATA International

Latest News