Yarn & Fiber
2022-07-21
Becoming the Amazon of yarns - how TURKTEX responds in no time to customers' demands and offers over 1 000 different yarns
In the fast-paced market of synthetic yarns, answering the ever-increasing customers' demands in a timely manner is a crucial competitive advantage. Since 2002, the synthetic yarn manufacturer TURKTEX has excelled at finding newer, better, and faster ways to satisfy its customers' demands, almost in no time. With SSM DP5-T, TURKTEX takes its competitiveness and mission towards customers to the next level.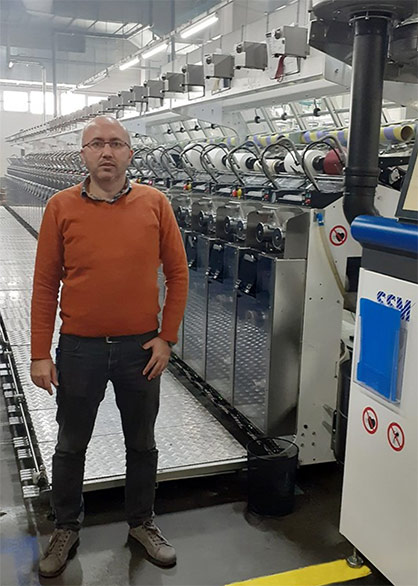 Mr. Ömer Efendio?lu, plant manager at TURKTEX, is very satisfied with the great support from SSM © 2022 SSM
The independent Turkish textile company, TURKTEX, focuses on the world of synthetic yarns, and is a brand of Turkuaz Tekstil San. ve Tic. A.S. group. Founded in 2002, in Bursa, Turkey's textile hub, TURKTEX has relied on SSM texturing machines from the very beginning, enabling the company to respond to customers' demands with innovative, fast and flexible solutions.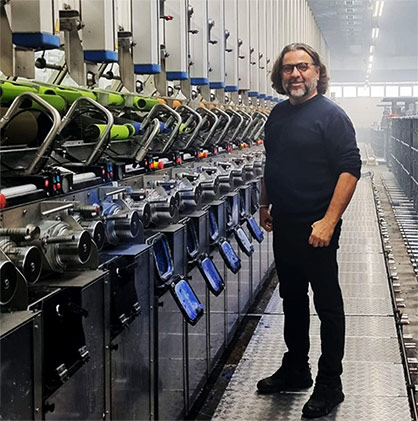 Mr. Dündar Cetin, owner of TURKTEX, appreciates working with a company who shares the same values and is dedicated to delighting its customers © 2022 SSM
Due to its superior products, TURKTEX is now Turkey's leading company in the high value-added continuous filament sector, especially for polyester (PES) and polypropylene (PP) yarns. Its production portfolio includes yarns for home textiles (such as curtains, upholstery, mattress ticking and carpets), fashion, automotive fabrics as well as yarns for technical applications, outdoor and military. Besides supplying the local market, the company exports its products to more than 30 countries.

The largest portfolio to meet customers' demands at any time

TURKTEX has the ambition to become the Amazon of yarns, that is the biggest synthetic yarn retailer. With a huge portfolio including polypropylene (PP) or polyester (PES) in divergent forms (recycled, flame retardant and more), various final yarn counts up to 2 000 denier, each available in 50 different colors, the company is on track to succeed.

DP5-T: the right solution to handle large assortments

In order to provide its huge range of yarns with short lead times, TURKTEX is dependent on reliable, fast, flexible and easy-to-use machines that are also quick and simple to maintain.

SSM machines have proved to be the perfect solution. In 2020, TURKTEX acquired the last SSM texturing machine DP5-T to help the company meet the demand in Air Textured Yarn (ATY) made of PES and PP (Fig. 1). It then invested in a DP5-FT false twist-texturing machine to drive business in the Drawn Texturized Yarn (DTY) market as well.

Today, the company stores approximately 1 000 different recipes in its SSM DP5-T machines and changes around every other second day the settings of the spindles. Any recipe can be removed and put back into production without any quality or repeatability issues. With its individual drive concept, the DP5-T makes it easy to switch between recipes, an indispensable feature for TURKTEX as it responds to the ever-changing needs of its markets.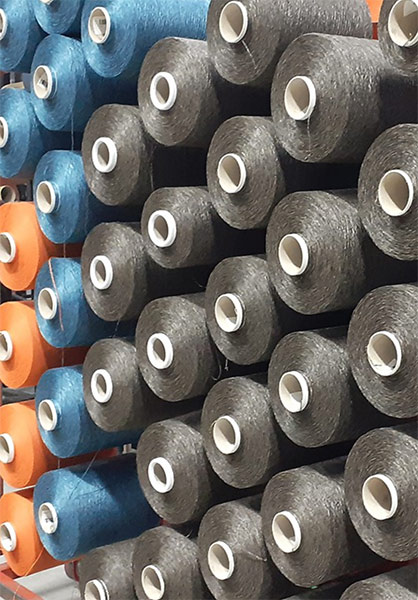 With SSM DP5-T, TURKTEX provide high quality Air Textured Yarn (ATY) © 2022 SSM
TURKTEX is very satisfied with SSM's support, service and technicians. Plant Manager, Mr. Ömer Efendioglu (Fig 2.), highlights: "SSM cares about our needs and supports us from the first negotiation to the commissioning of the machine and beyond."

Flexibility, fast response and excellent quality

TURKTEX has a strong internal textile research and development department which ensures innovative products. To make these products a reality in the desired quality, the company can count on SSM. Mr. Dündar Cetin (Fig. 3), owner and technical director of TURKTEX, is convinced that it is crucial to satisfy customers' requirements immediately and without delay. He states: "Always keeping promises and ensuring excellent quality is possible for us, thanks to SSM DP5-T."

Flexibility is another critical factor. While standard batches in the industry are usually over 2 tons, TURKTEX handles many small orders, as low as 50 kg. Changing raw material and parameters can be laborious, but with the DP5-T, it is easy for operators to switch between orders.

In summary, Mr. Cetin says: "I am really very happy about the cooperation with SSM because we follow the same values with our identical slogan: Flexible, Fast, Safe."
Related News
More News from SSM Schärer Schweiter Mettler AG

Latest News