Textiles & Apparel / Garment
2023-05-11
Marina Crnoja-Cosic elected President of Textile ETP
Textile ETP, the leading European Technology Platform for the textile and clothing industry, is delighted to announce the election of Dr. Marina Crnoja-Cosic as the new President. The vote took place at the General Assembly held on 10 May 2023 in Porto, Portugal, during the Textile ETP Annual Conference and CITEVE's iTechStyle Summit.
Marina Crnoja-Cosic brings with her a wealth of experience and expertise, having dedicated over 20 years to fibre and application development, as well as business development. Her passion for customised and market-oriented solutions and constant attention to long-term industry, and particularly to textile and non-woven trends, makes her the ideal candidate to lead Textile ETP into the future.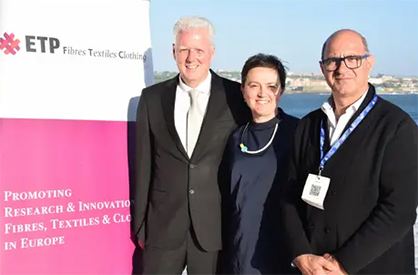 © 2023 Textile ETP
Born in former Yugoslavia, in Bosnia and Herzegovina, Marina Crnoja-Cosic pursued her education with utmost dedication. She obtained a degree in Textile Chemistry and Textile Technology from the Technical University of Zagreb in Croatia, followed by a Ph.D. in Technical Chemistry/Analytical Chemistry from the Technical University of Vienna in Austria.

Throughout her career, Marina Crnoja-Cosic has held various esteemed positions at renowned institutions and organizations. She spent the majority of her career at Lenzing AG in Austria, assuming different roles, including her final position as the Head of Application Innovation at New Business Areas. Since 2020, she has been the Director of New Business Development and a member of the Management Team at Kelheim Fibres GmbH in Kelheim, Germany.

Marina Crnoja-Cosic's dedication to advancing the textile industry extends beyond her professional achievements. She has served as a Board Member at ETP since 2019, representing Euratex on behalf of CIRFS, the European Man-Made Fibres Association, actively contributing to the platform's strategic direction. In addition, she holds a board membership at FKT, the German Textile Research Council, since 2022, and serves as a member of the Scientific Advisory Board of STFI e. V., and of the Scientific Advisory Board of DITF.

Expressing her enthusiasm for her new role, Marina Crnoja-Cosic said, "I am honoured to assume the position of President of Textile ETP and to contribute to the continuous growth and development of the European textile and clothing industry. I firmly believe that innovation, collaboration, and sustainability are key drivers for success in our sector. I look forward to working closely with the Textile ETP team, industry stakeholders, and our valued members to foster an environment conducive to breakthroughs and impactful change".

Marina Crnoja-Cosic's presidency will start on 1 July 2023, and will last for a duration of 2 years. In her role, she will be supported by Vice-President Braz Costa, representing Textranet, and Vice-President-Treasurer Michael Kamm, representing Euratex.

Related News
Latest News Textiles & Apparel / Garment
More News from TEXDATA International

Latest News