Textiles & Apparel / Garment
2023-03-02
C.L.A.S.S. joins Universo Mola Fashion Week 2023 from March 30th to April 3rd
Universo MOLA Fashion Week will showcase the work of national and Latin American creatives from March 30th to April 3rd,, 2023 in Punta del Este, the ideal venue to experience days of fashion, culture, gastronomy and unique sustainable experiences.
The only sustainable fashion week in Latin America.

Regenerating the fashion industry in Latin America.

In this edition MOLA is joined by Jose Forteza, Senior Editor of Vogue & GQ Mexico and Latin America and Global Ambassador of Universo MOLA, Giusy Bettoni, CEO and Founder of C.L.A.S.S., Cata Droguett, Founder of "Mujer Sustentable" in Chile, Manuela da Silveira, Uruguayan TV Host and Actress, Claudia Calace Madrina, Godmother of the Uruguayan Design for UMFW23, and our special guest Beatriz Argimón, vice president of Uruguay.

- The event is presented by FOUNDATION ENTRE SOLES Y LUNAS, under the program UNIVERSO MOLA, headquartered in Montevideo, which seeks to promote sustainable development in our continent, by means of generating spaces for communication and education in order to give back to Latin American communities.

Universo MOLA Fashion Week works to foster the creative movement of Uruguayan and Latin American designers, it is for this reason that the platform traverses the entire Latin American region looking for unique experiences in which the real treat lies in promoting and consuming the fashion, gastronomy art and culture that identify sustainability.

Universo MOLA Fashion Week 2023 will take place once again in the city of Punta del Este, Uruguay and will showcase collections of Uruguayan and Latin American talents coming from different countries of the region such as Argentina, Chile, Colombia and Peru, thus becoming the official hub that gathers the continental talent of sustainable fashion.

Register here:

https://universomola.com/index.php/mola-fashion-week-2023/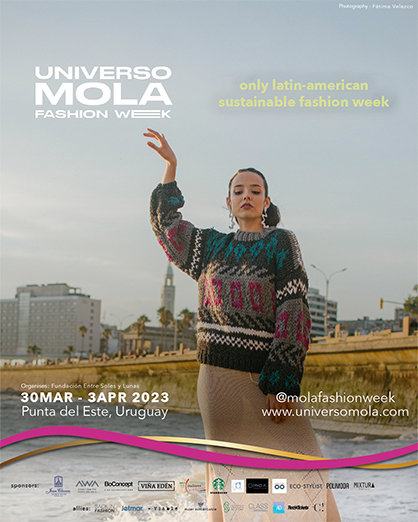 © 2023 Universo Mola Fashion week
There will be a full schedule of activities, among the main ones we have:

I. On March 30th, our Inaugural MOLA Carpet will take place in Viña Edén, and there will be special awards given to brands and designers of #UMFW23.

II. On March 31st, the educational section will begin, with talks aimed at the Industry. It will take place at the Hotel Awa Boutique.

III. On April 1st and 2nd at the Hotel Jean Clevers will take place our gallery, fashion shows and keynote talks.

IV. On April 3rd we will conclude with a cocktail party at BeConcept.

Some of the designers: UZAL, XZEA, ALKIMIA, VERÓNICA LEZCANO, HUAMAN AUTOR, BE HUMANO, GIMENA DAMIANO, FLORALIA, who obtained full of partial scholarship under the program Universo MOLA of Foundation Entre Soles y Lunas during MOLA Fashion Day in 2022.

"We have been a key player in the Latin American sustainable fashion industry for years, and through UNIVERSO MOLA we found an excellent platform to showcase our most recent talents and designers. On this occasion, our guests will experience first-hand the latest in sustainable fashion education" Stated Valentina Suárez, Director of Universo MOLA Fashion Week.

Universo MOLA Fashion Week kicks off this year's sustainable presentations, bringing the work of each creative to audiences and markets interested in consuming fashion, as one of the most important exposure platforms for the sustainable fashion industry.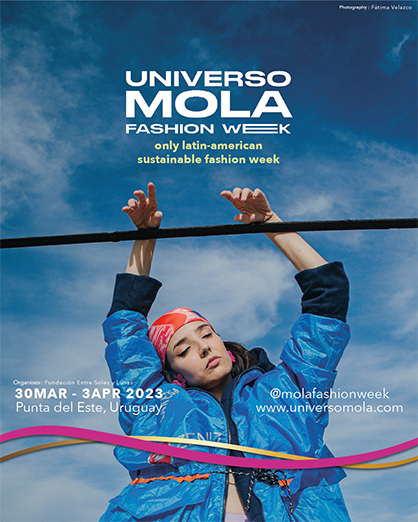 © 2023 Universo Mola Fashion week
Related News
Latest News Textiles & Apparel / Garment
More News from TEXDATA International

Latest News