Textiles & Apparel / Garment
2022-04-07
Durak Tekstil meets with US market at ISPA EXPO 2022

© 2022 Durak Tekstil
Durak Tekstil presented its comprehensive sewing and embroidery threads portfolio to the global bedding industry at ISPA EXPO 2022 and left behind the show satisfied with strong growth signals in the American market. Aramid threads with high heat resistance attracted great interest from the visitors.
Durak Tekstil, the leading manufacturer of industrial sewing and embroidery threads, presented its rich thread portfolio to the bedding industry at ISPA EXPO 2022, held in Orlando, Florida on March 8-10. The trade show is of great importance for the bedding and bedding sub-industry and is organized by the International Sleep Products Association (ISPA). Durak Tekstil succeeded in attracting the attention of visitors with para-aramid threads, which are accepted as a standard in bedding products, especially in the US market.

Durak Tekstil Board Member and Marketing Director Yigit Durak made evaluations about the show, reminding that they have been a member of ISPA, the umbrella organization of the industry since 2008, and said that the US stands out among its rapidly developing markets. Durak explained that they had important meetings, presenting Durak Tekstil sewing and embroidery threads to the bedding industry during the show, and stated that they were happy to leave behind a show that met their expectations.

Yigit Durak disclosed; "First of all, ISPA EXPO is a globally important and proven bedding industry show for both its participants and visitors. We had the opportunity to meet with visitors and manufacturers from North and South America as well as those coming from numerous other regions. We observed that the participation of European-based companies was lower this year. It was very beneficial for us to meet with producers from the reviving markets while we are leaving behind the negative effects of the pandemic. Meeting and contacting potential customers in a market far away from Turkey in terms of geography has made significant contributions to us in terms of production and marketing. We have once again seen how appropriate our growth targets for the American market are, and we continue our preparations to increase our initiatives in this regard."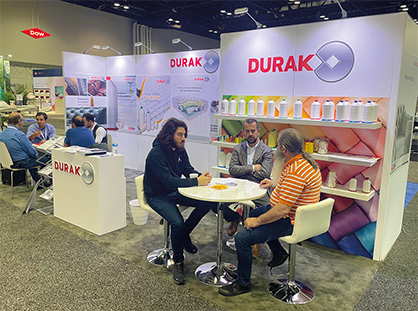 © 2022 Durak Tekstil
"We meet special thread demands for the bedding sub-industry"

Yigit Durak mentioned that they are the leading sewing and embroidery thread supplier in Turkey and explained that they obtained a significant part of their sales volume from the bedding sub-industry. Durak said the following; "As Turkey's leading sewing and embroidery thread supplier, we realize a significant part of our sales volume in the bedding sector. There are serious quality criteria and safety standards in the US for all bedding products, whether for household or commercial accommodation facilities. These include the threads used in the manufacturing of mattresses. We showed that we are able to meet this thread demand with our rich product portfolio at ISPA EXPO 2022. The intense participation of Turkish companies in the show was really sublime since a lot of raw materials and intermediate materials of the sector are supplied from Turkey."

Durak stated that they had exciting meetings at the show and noted that it would take some time to measure the efficiency of the show depending on the realization of the agreements.

Durak Tekstil aramid threads meet the standards of the US market

Yigit Durak, pointing out that the threads in their product portfolio increase productivity and quality in mattress production, said that they have turned into an innovative brand with these patented threads. He disclosed; "Our bobbin threads, directly contributing 15% to efficiency, truly represent innovation in this sense. Our other products are high-strength products that have proven themselves with their quality."

Informing that aramid threads are a necessity in the US bedding industry due to their high resistance to fire and flammability, Durak stated that para-aramid threads in their product portfolio easily meet the standards set in both the US and the EU. Durak disclosed; "These threads, which we produce from 100% para-aramid raw material, are offered to the American market by proving their quality, strength, and performance values with internationally valid certificates," and explained that mattress manufacturers use these threads safely and comfortably. He added that aramid threads are preferred for technical applications such as protective clothing as well as in the bedding industry.

We will be a comprehensive solution provider in the US market

Yigit Durak, reiterating that Durak Tekstil provides the requested transparency in terms of raw material, production, and final product with internationally valid documents and certificates, continued his words as follows; "The US is a huge consumer society. This market still continues to grow and purchase products from abroad. As Durak Tekstil, we do not only provide solutions to mattress manufacturers in this market, but also serve dozens of different segments where sewing and embroidery threads are used. That is why we position ourselves as a comprehensive solution provider. We are constantly strengthening ourselves for the organizational structure that will meet the increasing demand and variety in the fastest way. We have a direct short and medium-term investment plan in the US. We are working to make our brand synonymous with sewing and embroidery thread in the American market."

The transformation from mattress industry to sleep/rest technologies

Yigit Durak explained that they had the opportunity to see first-hand the new trends in the mattress industry at ISPA EXPO 2022. He summarized this transformation in the sector as follows; "There has been a big change in the mattress industry recently. Two types of mattresses were defined as spring and sponge before, now there are mattresses with custom sizes, personalized inner structure and fabric surface, different hardnesses, and even thermal properties. In fact, now the term 'mattress sector' is perceived negatively as saying 'dentist' to an odontologist, and the sector has started to change itself to 'sleep/rest technologies' instead."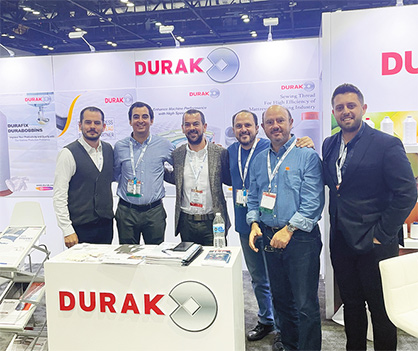 © 2022 Durak Tekstil
Durak stated that products with many different functions are produced today, from pocket spring mattresses to natural latex mattresses, from anti-stress mattresses to energy-storing mattresses adding that these features are generally provided on fabric surfaces. He said; "We follow these innovations closely in order to add different functions and value to textile materials, which is our expertise area as a company. Our R&D departments started to work on applying nanotechnology to fabrics and using fusion fabrics. These products will not be able to come to life without sewing and embroidery threads suitable for these fabric properties. So we will be ready as a reliable partner of the sleep/rest technology industry."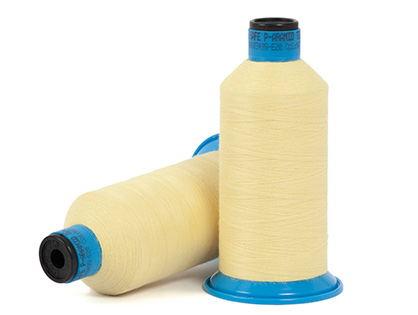 © 2022 Durak Tekstil
"We compete in high quality, not in low price"

Yigit Durak stated that Durak Tekstil works with its 40-person R&D team with the vision of continuous innovation, and remarked that they focus on gaining a competitive advantage with products that meet high standards and quality demands. Durak ended his words as follows; "We have never adopted low price competition instead of high quality. We know that the satisfaction of our customers' customers is the main factor for us. Quality is considered a value on its own in our corporate vision."
Related News
Latest News Textiles & Apparel / Garment
More News from TEXDATA International

Latest News