Textile chemistry
2023-05-11
REVECOL® by ERCA, the circular revolution takes a step forward
A step forward in research, a big step for circularity in textiles: REVECOL® (Recycled Vegetable Cooking Oil) represents a new generation of textile chemical auxiliaries, which are high-performing and obtained from vegetable exhausted cooking oil. For the first time, this step of the textile supply chain can thus also make use of materials with a circular approach, contributing to the real sustainability of the finished product.
ITMA 2023 – June 8-14 2023, Hall H5, Booth A201

Chemical auxiliaries play a crucial role in several stages of the textile production cycle, from material preparation to dyeing and finishing, but represent a complex challenge from the point of view of reducing environmental impact.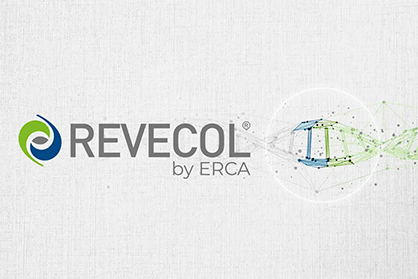 © 2023 Erca
Herein lies the revolutionary aspect of REVECOL® by ERCA: for the first time, not just one product, but a complete range of auxiliary chemicals is available that meets the criteria of circularity while ensuring excellent results in terms of quality and performance.

The result of ERCA's continuous research, REVECOL® are in fact born from critical waste materials (exhausted vegetable oils), which, thanks to an environmentally and safety-friendly manufacturing process, are transformed into a line of innovative chemical auxiliaries destined for the entire textile industry and its various applications: from underwear to home textiles. It is a complete range of products with unique characteristics: circular DNA, certification, safety, high performance, and applicability on any type of textile fiber, whether virgin or recycled.

In recognition of its unique and innovative characteristics, REVECOL® by ERCA has obtained the most important certifications – GRS, RCS, listed into ZDHC Chemical Gateway, bluesign® and GOTS, we are also finalizing the third-party certified PCF (Product Carbon Footprint), - and various international recognitions – first prize RESPONSIBLE CARE®, in Italy, from Federchimica, inclusion in the BAT (Best Available Techniques) document from the European Community.

"We, at ERCA are always looking for innovative solutions through the development of products that are increasingly high-performing, competitive and sustainable at the same time. REVECOL® is the perfect example of this and it represents the " so far missing piece" for the production of textile materials that enable the approach to an increasingly responsible and certified supply chain without any compromise in performance." Comments Fabio Locatelli, Head of Textile BU at ERCA S.p.A.:

ERCA and REVECOL® await you from June 8 to 14 at ITMA 2023 - Hall H5, Booth A201 - Rho Fiera Milano. Follow the run-up to the event on http://www.ercatcs.com. 
Related News
More News from TEXDATA International

Latest News