Sustainability
2022-12-08
Shoes with that certain something

The LOWA model LADY LIGHT GTX has been awarded the OEKO-TEX® LEATHER STANDARD certificate. © LOWA
LOWA, one of the leading outdoor shoe specialists, and the testing service provider Hohenstein are entering new territory together: the LOWA model LADY LIGHT GTX has been awarded the OEKO-TEX® LEATHER STANDARD certificate.
Pilot project LOWA and Hohenstein: First certification of footwear according to OEKO-TEX® LEATHER STANDARD
"The successful certification is a milestone for us: testing for harmful substances in textiles has long been common practice, but testing for harmful substances in footwear still has a lot of room to grow," notes Ivonne Schramm, Head of OEKO-TEX® at Hohenstein, "Yet they make a lot of sense, because leather shoes are often worn for long periods of time and, unlike textiles, they cannot be washed despite their long service life." This makes it all the more important that shoes made of leather do not contain any harmful substances - especially since they consist of many different components. Each individual component from different production stages, such as tanning or dyeing, represents a possible source of input for harmful substances. Reason enough for LOWA to take action here: "We are very pleased about the certification, which stands for the core values of our brand - highest quality, perfect fit and innovation," says Alexander Nicolai, Managing Director of LOWA Sportschuhe GmbH, "Our customers can expect products of the highest standard from us - in the future, this will also include the reliable safety of a LEATHER STANDARD certification."

The successfully completed pilot project creates a Win-Win situation for everyone: In the future, LOWA plans to have further shoe lines certified by Hohenstein according to the OEKO-TEX® LEATHER STANDARD step by step in the interests of consumer protection. In return, Hohenstein has succeeded in significantly expanding its expertise beyond purely textile concerns by certifying footwear according to the OEKO-TEX® LEATHER STANDARD.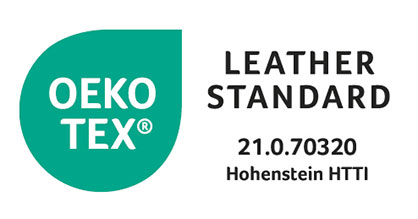 The OEKO-TEX® LEATHER STANDARD certificate for footwear is only issued if all components comply with the required criteria of the LEATHER STANDARD RSL (Restricted Substances List) without exception. © Hohenstein
Detailed information about the OEKO-TEX® LEATHER STANDARD specifically for footwear can be found here:
http://www.hohenstein.com/leather-standard-for-footwear
Related News
More News from Hohenstein Institute

Latest News