Spinning
2014-03-19
The UZTEX Spinning Plant becomes "ECOrized"

Right to left: Mr. Rafael Tavkhidov, General Direktor UZTEX GROUP, Mr. Farkhod Mamatdjanov, Owner UZTEX GROUP, Mr. Roger Eberhard, Head of Spare Parts Rieter, Mr. Alisher Razakov, Managing Director ART-TEXTILE, Rieter Agent in Uzbekistan
The Uzbek spinning plant was one of the winners of the Rieter competition "Suction Tube ECOrized" from June 2013. The prize was a retrofit package with the energy-saving suction tube ECOrized for a complete ring spinning machine. Energy measurements taken by the customer before and after the retrofit immediately convinced them – their entire ring spinning unit will now become "ECOrized".
UZTEX is one of the most modern spinning plants in Tashkent, Uzbekistan. It is specialized for the production of 100 % cotton yarns. With 31 488 spindles resp. 14 G 33 and 9 G 35 ring spinning machines, the plant produces more than 6 500 tons annually of high-quality combed and carded cotton yarns in the count range Ne 30 to Ne 40.
Sustainable Energy Saving of 67 %
With the new suction tube ECOrized, UZTEX could reduce the suction on the ring spinning machine without deterioration of the yarn quality or the thread break ratio. The customer's own energy measurements taken before and after the retrofit immediately convinced them: 67 % energy saving thanks to the suction tube ECOrized (Fig. 1). And this sustainably! UZTEX reacted and promptly ordered retrofit packages from Rieter for all their existing ring spinning machines.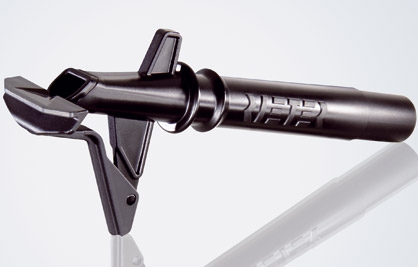 Pic: Suction Tube ECOrized - Sustainable Money Saving in Ring Spinning
UZTEX becomes ECOrized 
For the Managing Director of the UZTEX spinning plant, Mr. Rafael Tavkhidov, it was clear: "UZTEX will become ECOrized. The energy savings are so high that the investment yields a profit already after one year. We are currently converting our complete existing installation. Also with our new plant in the Shovot Tekstil spinning mill, we are setting our sights clearly on the suction tube ECOrized. Here, we have already ordered the latest Rieter G 36 ring spinning machines with the suction tube ECOrized."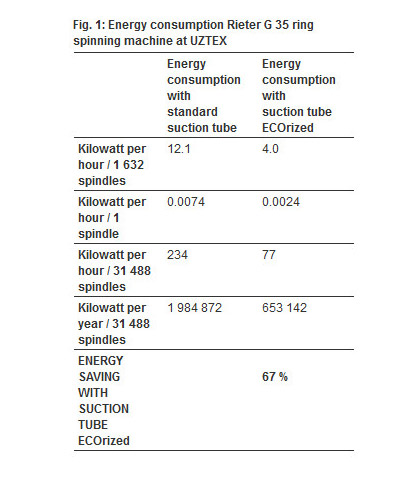 Fig.: Energy consumption Rieter G 35 ring spinning machine at UZTEX
Related News
More News from Rieter Textile Systems

Latest News