Spinning
2023-03-23
75 years of Trützschler in Mönchengladbach: On its birthday, the long-established company wishes for young talent

From left to right: Tilo Peters, Dennis Adamiak, Jonas Schmitz, Kilian Feikes, Tim Latajka, Nilson Welters, Maximilian Haase, Berkant Ayaz, Marcel Said Parnak, Mousa Rajabi, Ramon Serrano Friedrichs, Jonas Heinze, Niklas Willems © 2023 Trützschler
It's time to celebrate for Trützschler: 75 years ago, the family business founded its headquarters in Mönchengladbach-Odenkirchen. Now, it looks back on a long tradition of training young people. The site in Mönchengladbach is officially three-quarters of a century old – and is still a dynamic place to work. To keep it that way, Trützschler is looking for motivated young employees.
Trützschler is what you might call a hidden champion. Experts from the textile sector know the company as the world's market leader for spinning preparation. However, people outside this industry are often unaware of what happens behind the walls of the headquarters in Mönchengladbach. And those people include school and university students, as well as young professionals.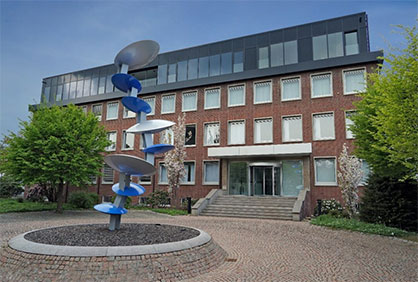 The Trützschler location in Mönchengladbach celebrates its 75 years anniversary. © 2023 Trützschler
Trützschler textile machines don't make jeans or T-shirts. Instead, they play a key role at the beginning of the textile value chain. Their goal is to clean, blend and structure raw materials like cotton to make a uniform sliver that is then spun to create a yarn. The company's main customers include spinning mills from all over the world who use Trützschler technologies in a wide range of different applications. Trützschler supports its customers with recycling textiles and producing sustainable yarns from production waste or old textiles. The company also provides its customers with advantages when it comes to digitalization, which plays a central role in global markets. Examples include intelligent and self-optimizing machines, as well as digital platforms for optimizing processes and saving resources.
Professional training for more than 1,000 young people

The headquarters in Mönchengladbach-Odenkirchen is the center of all Trützschler activities. Over 800 of the company's 3,000 employees work at this site. The development, production, sales, administration and service activities are anchored here. The team at headquarters also coordinates other locations worldwide, including sites in Switzerland, the USA, Brazil, India and China. Global sales activities are steered from Mönchengladbach too. Trützschler recognizes that the knowledge and loyalty of its employees are the foundation for its success, and the company has a long tradition of training young people. "Trützschler has existed for 135 years, 75 of them in Mönchengladbach," says Christoph Poos, Head of Group HR. "We have already successfully accompanied more than 1,000 young people on their training journey at this site."

Recruiting young people currently involves some challenges at Trützschler, Poos says, but he is very understanding about the situation. "We understand that it is more difficult than ever for young people to choose a career path. The pros and cons of an apprenticeship when compared to a university degree are difficult to weigh up, and there are so many options these days." For this reason, Trützschler has now adapted its offer of opportunities for trainees, students and young professionals.

From internships to scholarships: Trützschler offers a wide range of opportunities for young people

Student and compulsory internships that can be completed independently of school are suitable ways to get to know the company and the potential apprenticeships it offers. The family-owned company offers apprenticeships in 14 different career areas. The focus is on industrial professions, but there are also opportunities for commercial, technical and IT professions. Trützschler offers in-house factory training, English lessons and targeted preparation for upcoming exams – for young people who are engaged in a dual study program and also for those who are completing a traditional apprenticeship. Trainees can even gain experience abroad. Trützschler also cooperates with local schools and sends its trainees into classrooms to answer questions about applications, internships and training. Students benefit from basic internships for mechanical engineering and industrial engineering (GP1-GP3), as well as specialized internships and practical semesters. Trützschler also offers supervision for bachelor's and master's theses. The company is keen to get to know young university graduates as early as possible. For this reason, it cooperates with universities close to its site to reward outstanding theses and present company-internal scholarships. Trainees who complete their degree with a particularly high standard of work can expect to receive a scholarship at Trützschler.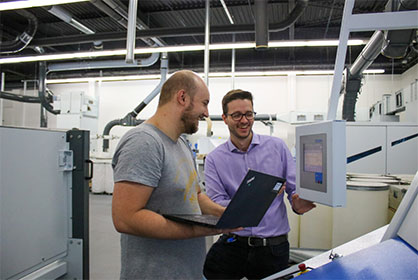 Tobias Hölters and Jan Herzog, former scholarship holders in electrical engineering with a focus on automation technology, have been part of the Trützschler family since completing their studies © 2023 Trützschler
For many years, Trützschler has been sponsoring students as part of the "Deutschlandstipendium" initiative. Accompanied by a supervisor, young people get to know the company and its products during the sponsorship year. Tobias Hölters and Jan Herzog received this scholarship in the field of electrical engineering with a focus on automation technology, and have been part of the Trützschler family since completing their studies. "In addition to the financial and individual professional support, I really appreciated the networking opportunities within the company. It was great that my supervisor shared practical tips about starting a career. And it was even nicer to begin my career at Trützschler directly after completing my master's degree," says Hölters. His colleague Jan Herzog, who is now employed as Division Manager for Electrical/Electronic production, adds: "At the beginning of my studies, I did not expect to get into such a responsible position so quickly. I am very grateful to Trützschler for this great career opportunity and I recommend this scholarship to everybody."
Appreciation, trust and togetherness as the foundation for success

Appreciation, trust and a spirit of family togetherness have formed the basis for a motivational learning and working atmosphere at Trützschler for 135 years. For 75 years, these principles have been brought to life at the company's site in Mönchengladbach. Anyone interested in learning more about training opportunities at Trützschler can find it online or by picking up the telephone. Questions about industrial and technical professions can be answered by Ralph Thannisch (phone: 02166-607361), while Andrea Wieder can share information about commercial careers (02166-607498) and Ariane Blix is available to talk about IT (02166- 607455).

Related News
More News from Truetzschler GmbH & Co. KG

Latest News