Spinning
2022-09-08
Success with SUPERTIP

Kaz?m Vurur, Technical Manager of Saf Mensucat and HRN, shares his experiences of using the innovative SUPERTIP wires. © 2022 Trützschler
The new SUPERTIP wire family from Trützschler Card Clothing is raising the bar for quality, efficiency and cost-cutting. But what's it really like to use this kind of high-value product? Listen to an expert! Kazim Vurur, Technical Manager of Saf Mensucat and HRN, shares his first-hand experience of using these innovative wires in carding applications at his company's site in Kahramanmaras, Turkey.
Saf Group was established in 1994 and operates in the steel industry with brands including Saf-Lon and Saf-Ten – and it is active in the textile industry too. Saf Group's "Saf Mensucat" business employs 260 people and produces 70 tons of weaving and knitwear yarn from Ne 4/1 to Ne 40/1 each day. The group also launched HRN during the pandemic, which produces 45 tons of compact ring yarn per day.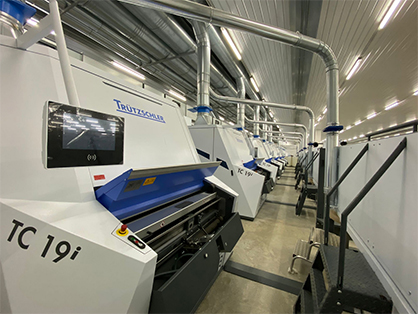 Saf Mensucat use SUPERTIP wires in combination with state-of-the-art machines from Trützschler and derive many advantages from it. © 2022 Trützschler
In 2022, Saf Group achieved turnover of 110,000,000 dollars in the field of textiles with its Saf Mensucat and HRN brands. Both textile businesses use state-of-the-art machines from Trützschler, as well as our new SUPERTIP wires for carding that increase the utilization time of the wires to reduce maintenance needs.

How are these technologies performing in the real world? We contacted Kaz?m Vurur for answers. As Technical Manager for Saf Mensucat and HRN, he has direct insights into exactly how Trützschler is supporting the company's production activities. Kazim began working in the textile sector in 1992 and has been employed in his current role for almost 25 years.

Here's what he had to say…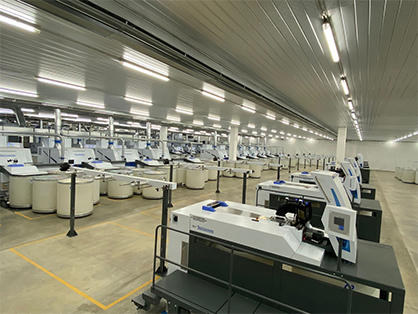 View into the production halls of Saf Group. © 2022 Trützschler
Could you please tell us about Saf Mensucat and its customers?

Kazim Vurur: "Sure! About 60 % of our products are used in knitting, while around 30 % are used in weaving. The remaining 10 % is for technical textiles like brush cloth, vehicle upholstery and materials for the medical sector."

How did the pandemic affect Saf Mensucat?

Kazim Vurur: "Before the pandemic, most of our products were exported. Now, around half of our products are provided to the domestic market and the other half is exported.

During the pandemic, we carried out the construction, installation and assembly processes of HRN. At the same time, we continued our production on a full-time basis while taking all necessary precautions. We started our compact ring business, which we planned in line with customer demands – including a preparation group containing 39 TC19i Trützschler cards. Our new facility now produces compact ring yarn in the range of Ne16-Ne80, generating 45 tons per day with 63,360 spindles."

And what is your opinion about X2 SUPERTIP wires?

Kazim Vurur: "We're using the X2 SUPERTIP at our Saf Mensucat facility and it has a lot of benefits. The biggest advantage is that it achieves stable performance levels throughout the life of the wire. On top of that, the X2 SUPERTIP has a much longer wire life – about 30 % longer than a NOVOSTAR X1 wire. The X2 SUPERTIP also achieves a wire life expectation of up to 1800 tons, while the NOVOSTAR X1 offers just 1350 tons. In fact, we're now experimenting with 2000 tons on one of our lines. Wire costs are also lower because of the longer service life and reduced maintenance needs.

Quality is another big advantage. We're seeing a much smaller quality variation between cards when using the X2 SUPERTIP wire compared to the NOVOSTAR X1.

In addition, MAGNOTOP 52 flats, which we started to use with X2 SUPERTIP wire, provide great benefits in yarn quality. A significant improvement of up to 50% has been achieved in total IPI values in all of the Ne ranges that we produce. In neps specifically, the improvement is 280%.

I think Trützschler Turkey's constantly increasing customer-oriented service quality is also generating the success of the X2 SUPERTIP wire.

On the occasion of this interview, I would like to thank the entire Trützschler team for supporting us in every way."

Related News
More News from Truetzschler Card Clothing GmbH

Latest News