Shanghaitex 2017
2017-11-28
Meeting point for Asian textile industry
Mahlo successfully starts Shanghaitex 2017. The new generation of Mahlo straighteners, sensors and control circuits are arranged in a way that they can communicate not only with each other but also with alien systems.
1.200 exhibitors, 60.000 visitors, 103.500 square metres exhibition area: the Shanghaitex is one of the most important textile fairs in China. No wonder, with Asia being the biggest market for textile machinery worldwide. Of course, Mahlo is present at the exciting event in the Land of the Dragon with a powerful team. At booth W5 C30, members of Shanghai Kuantex and Mahlo welcome interested visitors.
With the Orthopac RVMC-15, our motivated team is presenting the latest generation of weft straighteners to the special audience from all fields of the textile industry. In addition to that, the recently developed thread counter Famacont PMC-15 with three sensors and the newly built possibility to translate thread density into basis weight, is put in the limelight.
The topic Industry 4.0 dominates this year's program at Shanghaitex. For this vision of interacting machines, Mahlo is equipped perfectly.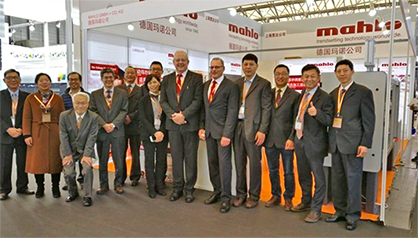 (c) 2017 Mahlo
Related News
Latest News Shanghaitex 2017
More News from Mahlo GmbH + Co. KG

Latest News