Nonwovens / Technical Textiles
2017-12-07
Groz-Beckert presents: the new HyTec P jet strip

The new HyTec® P jet strip (c) 2017 Groz-Beckert
In the year 2004 Groz-Beckert began to produce jet strips. Since that time the company has become a leading producer. This year, the Subdivision Felting introduced its newest innovation in the area of jet strips: the HyTec® P.
Jet strips are used in a number of product applications: from producing synthetic leather substrate, to filters or automobile equipment in the technical sector, all the way to medical and hygiene products.

According to a recent study, the wipes market is estimated to be 14.8 billion USD. Almost 1.1 million tons of sanitary wipes were consumed in 2016, and this will increase annually by 6.1% to 1.4 million tons by 2021; a market that is valued at 19.6 billion USD. [Sustainable Nonwovens | April/May 2017 | page 44]
Micrometer precision – precision tools from Groz-Beckert

Hydroentanglement makes up the greatest share of production processes producing wipes today.
The key tool in any hydroentanglement system is the jet strip. At Groz-Beckert, these tools are included within the Subdivision Felting under the name HyTec®. The product range includes jet strips at a total length of 80 mm to 6,200 mm and 40 to 20,000 nozzles in one, two, three, or four rows. The nozzle diameters range from 0.08 mm to 0.22 mm. The Groz-Beckert production process absolutely guarantees sharp-edged, homogenous nozzle edges and geometries.
High lifetime, absolutely homogenous jet creation with large impelling force and excellent entanglement ensure the very best productivity, quality, and efficiency. This means that you, the customer, will always have the best possible product to reach your individual goals.
Under high pressure – bonding of nonwovens via jet strips
During the process of bonding nonwoven fabrics, water is fed at high pressure (between 30 and 420 bar) uniformly through the working width of the nozzle bar or injector, and then through the nozzle openings of the jet strip located in the injector. Water jets created in this way strike the fibrous web at a speed of up to 280 m/s, which is faster than the standard traveling speed of a passenger jet.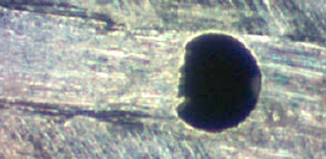 Under close review: Extreme close-up of a conventional jet strip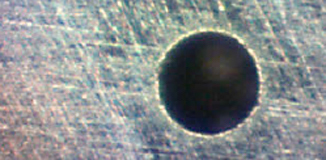 compared to a HyTec® P jet strip (c) 2017 Groz-Beckert
In order to withstand these conditions, high-quality precision tools are required such as the new jet strips from Groz-Beckert: HyTec® P stands for simplified handling via optimized elasticity. Compared to a conventional jet strip, the new, spring-tempered material offers a much higher limit of elasticity, and thus more than three times the protection against deformation of the jet strip. HyTec® P is primarily designed for application at high pressures.
Scratch and damage resistant – the new HyTec® P jet strip

Damage to the nozzles in the μm range, which cannot be identified with the naked eye, may influence the physical properties of the nonwoven or even make it necessary to replace the jet strip.
Compared to conventional jet strips, the new material possesses a much greater hardness which causes longer usage times (product life) in your production. As the image shows, HyTec® P offers excellent scratch-resistance to damage, for example when replacing the jet strip, during cleaning, or from improper handling.
In summary, the HyTec® P jet strips stand out because of the following:

Pronounced spring characteristics
Very good rigidity against deformation (stiffness)
Good resistance to corrosion
Improved resistance to wear on surfaces and nozzle edges
Highest finish quality of final product
As a customer of Groz-Beckert, using the HyTec® P will mean you benefit from the following:

Significantly easier handling
High scratch-resistance to damage when changing jet strips
High lifetime
High resistance to permanent deformation in longitudinal and cross directions
Groz-Beckert experts from the Felting Department are happy to assist and work out the best production setup with interested customers.

Related News
Latest News Nonwovens / Technical Textiles
More News from Groz-Beckert KG

Latest News