Knitting & Hosiery
2015-12-16
KERN-LIEBERS TEXTILE expands portfolio
Combs and Pin strips are among the critical parts in many machines along the textile process from fiber to yarn. German manufacturer KERN-LIEBERS TEXTILE is now expanding its portfolio in this area substantially. In addition to the well-established top combs and circular combs for cotton and wool spinning machines, the company is now also offering a comprehensive portfolio of pinning systems for the spinning preparation of long staple fiber.
Kern-Liebers took over the pin production machines from Drei-S-Werk and integrated them into their own production facilities in Schwabach. The expansion of the production facilities offers an ideal combination with the existing know-how in the production of various machine parts, like combs and pin strips. Combs, pin strips, pinned systems and all other parts from KERN-LIEBERS TEXTILE are available for different machines from various manufacturers worldwide.
With its huge range of products the company is one of the leading suppliers for the textile industry. Customers are machine manufacturers as well as textile manufacturers. Worldwide sales and support is guaranteed through the international network of subsidiaries and representations covering all major textile markets around the globe.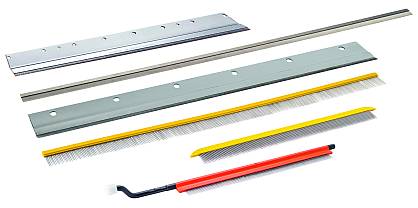 Pic: KERN-LIEBERS TEXTILE's huge portfolio of parts for the textile industry includes combs, pin strips, pinning systems, and many other parts.
Related News
Latest News Knitting & Hosiery
More News from Kern-Liebers Knitting Parts GmbH

Latest News