Knitting & Hosiery
2018-01-22
LAMB Knitting Machine Corp. celebrates 150 years of manufacturing knitting machines
In 1867, the LAMB Knitting Machine Manufacturing Company was formed and started the production of flat V-Bed latch needle knitting machines in Chicopee, MA. The first machines of its type, LAMB machines were manufactured under a U.S. Patent issued to Pastor Isaac W. Lamb.
LAMB sold this new and versatile machine not only in the US but also in Europe. In 1893, the company merged with A.G. Spaulding and changed its name to LAMB Manufacturing Company. In addition to manufacturing flat and circular knitting machines, the company also produced bicycle frames, rifles and shotguns.

The company ceased operations for 2 months in 1931 and then was reorganized as LAMB Knitting Machine Corporation, a private corporation, by four employees of the original LAMB company. Starting in 1931, LAMB focused its operation on manufacturing narrow fabric V-Bed knitting machines. These machines were used to produce trimmings for sweaters and other apparel items as well as the fingers on knitted gloves.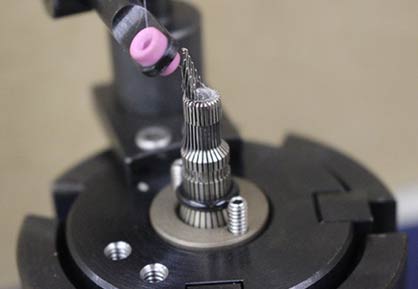 (c) 2018 LAMB KNITTING MACHINE CORPORATION
John W. Giokas purchased LAMB in 1956. From 1940 to 2002, he guided the company, incorporating semi-automatic machining into the manufacturing process and expanding the product line into small diameter circular weft and warp knitting machines. The circular machines were used to knit drawstrings, shoelaces and ropes.
The current owners, Andrew & William Giokas (second generation) joined LAMB in the 1970's. In addition to modernizing the manufacturing process, they have developed the new LAMB knitting machines required to meet the needs of their customers. Gini (Giokas) LaPalme and Amy (Giokas) Lonzcak are other family members who have joined LAMB and are instrumental to this organization. Amy Lonzcak is the third generation to work at LAMB and, while involved in manufacturing, she now focuses in design and prototype knitting. Two other members of the LAMB team have been with the company for over 20 years.

(c) 2018 LAMB KNITTING MACHINE CORPORATION
150 years of manufacturing:

A reputation for manufacturing dependable machines, providing timely and effective service to the customer, staying in tune with the needs of the customer, have been the keys to LAMB's success for 150 years.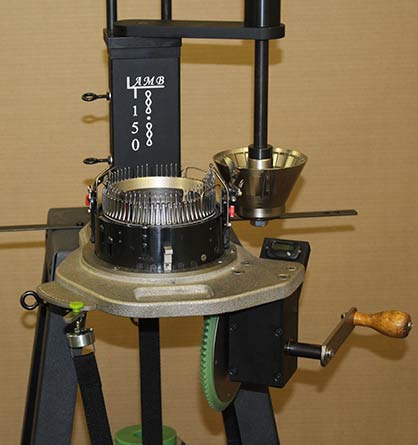 (c) 2018 LAMB KNITTING MACHINE CORPORATION
LAMB is only one of two companies that still manufacture knitting machines in the U.S., and is one of the few in the world that is focused on knitting machines to produce materials ranging in size from .050" diameter to 4-inches wide. The experience gained through the years in designing and manufacturing these types of machines and the dedication to producing a quality product has resulted in the world-wide reputation LAMB machines have for dependability.
Up to 1970, LAMB machines were primarily used to knit materials for the apparel and home furnishing industries using cotton, polyester and other man-made traditional yarns. Then applications for small diameter circular knits were created that used wire, fiberglass and other new type of fibers. LAMB modified its machines so that these new fibers could be knit productively. Products knit on LAMB machines can be found in automobiles, furnaces, household appliances and in other industrial products.
In the past 10 years, new applications for small diameter circular knits have been created. Small diameter knits are now used not only in medical devices such as catheters but to knit items that are implanted into the body, such as stents and arterial grafts. These knits range in size from 1mm to 18mm and use cylinders with needle densities ranging from 30 to 65 needles per inch. LAMB has coupled its experience in manufacturing small diameter knitting machines and researching new manufacturing techniques to develop the machines required to knit these materials.

Celebrating 150 years: In the 1870's LAMB also manufactured the TUTTLE Sock Knitter. It was a hand-cranked machine and was used in many homes to knit socks and caps. Several other similar machines manufactured by other companies followed, but none with all the features of the TUTTLE. A limited number of the original TUTTLE machines are still in use today by home knitters and hobbyists. To answer the requests from members of the Circular Sock Knitting Machine Society and in recognition of its 150 years, LAMB has started manufacturing a limited number of the re-designed version of the TUTTLE Sock Knitter - the LAMB LT150.

Related News
More News from Lamb Knitting Machine Corporation

Latest News