ITM 2018
2018-04-05
SHIMA SEIKI to exhibit at ITM 2018
Leading computerized knitting machine manufacturer SHIMA SEIKI MFG., LTD. of Wakayama, Japan will participate in the ITM 2018 International Textile Machinery Exhibition in Istanbul, Turkey this month. A prominent market for SHIMA SEIKI computerized knitting machines with both an established export base to Europe as well as a growing domestic market, Turkey is a highpotential market for the company's WHOLEGARMENT® knitting technology.
Accordingly at ITM 2018, SHIMA SEIKI will exhibit a wide range of its products, including proposals in seamfree WHOLEGARMENT® knitting technology that offers an alternative to laborintensive manufacturing in Turkey and other international markets. Featured is the flagship MACH2XS WHOLEGARMENT® knitting machine with original SlideNeedle™ on four needle beds and springloaded moveable sinkers with expanded patterning capability, the MACH2X machine in 18G for producing refined ultrafine gauge items, as well as the compact SWG091N2 for producing smaller WHOLEGARMENT® items and accessories. Novel proposals in knitweave hybrid fabrics will be made on SRY machines featuring double loop presser beds.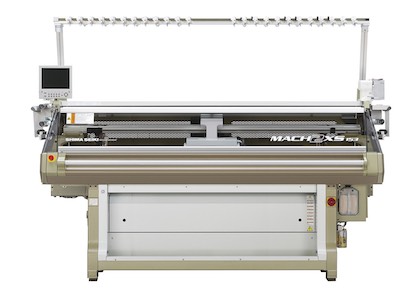 SHIMA SEIKI MACH2X WILL BE ON DISPLAY (C) SHIMA SEIKI
The SVR workhorse series, touted as the industry benchmark for shaped knitting, will be shown in different knitting widths and gauges, including the SVR123SP model with a single loop presser bed and similar capability as SRY. The SSR series offers industryleading technology in an economical package, while the SCG122SN will round out the flat knitting machine lineup with specialized coarse gauge knitting. Also on display are the SFGI glove knitting machine, SIPseries inkjet printing machine and PCAM series cutting machine, showcasing SHIMA SEKI's comprehensive capability for innovation as textile machinery manufacturer.
Demonstrations will be performed on the SDSONE APEX3 design system that is at the core of the company's "Total Fashion System" concept. With comprehensive support of the knit supply chain, APEX3 integrates every stage from planning and design to machine programming, production and even sales promotion into one smooth and efficient workflow. Photorealistic simulation capability allows Virtual Sampling to minimize the need for actual samplemaking, effectively reducing time, material and cost while increasing presentation quality in the sampling process. APEX3 supports design and simulation in a variety of textile including flat knitting, circular knitting, weaving, pile weaving and printing for such industries as towel and home furnishings as well.
In addition, SHIMA SEIKI will present its virtual showroom technology at ITM, based on virtual 3D models wearing realistic simulations of knitwear created on APEX3. The company proposes its virtual showroom in hopes to reduce time and cost as well as material necessary for the designer to produce collections and other costs required to organize formal presentation. A simplified version is already available for viewing with SHIMA SEIKI's app "VRknit.com™" available for iOS and Android devices, and can be accessed at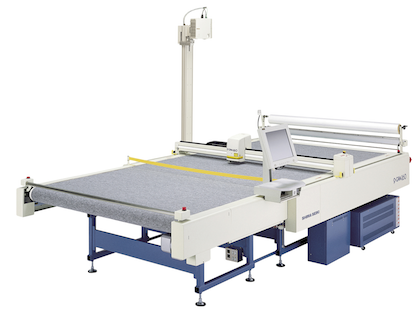 SHIMA SEIKI PCAM series cutting machine (C) SHIMA SEIKI
Related News
More News from Shima Seiki MFG., Ltd.

Latest News