ITM 2016
2016-04-14
Suessen at ITM 2016 in Istanbul
SUESSEN will exhibit its products during ITM Istanbul to demonstrate the competence in handling and processing natural and man-made-fibres within the ring- and rotor spinning process.
SUESSEN show highlight exhibits
SUESSEN's EliTe®Compact Set is the world's most in demand compact spinning system. The new EliTe®CompactSet Advanced impresses the customers with the innovative components and devices as the new EliTop Advanced with EliSpring®, EliTube Advanced flip, Micramics insert and S+ lattice apron making the system even more attractive for them and more competitive in the market.
TwistPlus® is a false twist unit for ring spinning machines with EliTe®CompactSet. Twist can be reduced resulting in corresponding increase of production and quality.
The reputed SUESSEN HP-GX 3010RPT Top Weighting Arm replaces pneumatic top arm systems on ring spinning machines reusing the given top roller equipment.
On an Open-End drafting model will be presented the SpinBox SQ modernisation, equipped with well-known SUESSEN Premium Parts Spinning Components such as ProFiL®Rotors, ProFiL®Brake Pads, TorqueStop, SOLIDRING and Fibre Channel.
And there are new Premium Parts products on display:
PS7 TwinDisc - "P"ower "S"aving "7" mm show a reduced width of the disc and thus resulting in smaller contact surface to the rotor shaft. This guarantees significantly reduced energy consumption.
The TwistTrap Navel creates additional false twist in the zone of highest spinning tension - within the rotor - when spinning knitting yarn of cotton in the range of Ne 18 to Ne 40, achieving production increase of 5% to 15% by reducing the twist multiplier without increasing the rotor speed.
SUESSEN Premium Parts also provides Modernizations Packages as Trash Channel, Charbon Fibre Rod, SRK to SRZ Modernisation, Package Cradle Shock Absorber.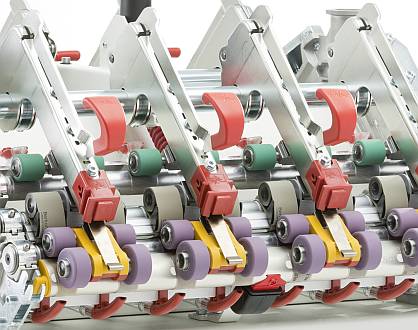 Pic: EliTe®CompactSet Advanced with special features as EliTop Advanced, EliTube Advanced flip, Micramics insert, S+ lattice apron and HP-GX 3010RPT Top Weighting Arm
Related News
More News from Suessen Maquinas
Latest News