Research & Development
2018-01-24
Kansai Univ. and Teijin develop piezoelectric wearable sensors featuring fashionable stitch designs

Left: Cross-stitch (bending) / Middle: Chain-stitch (elongation and contraction, twisting and bending) / Right: Fly-stitch (twisting)
Kansai University and Teijin Frontier Co., Ltd., the Teijin Group's fiber - product converting company, announced today that Professor Yoshiro Tajitsu of Kansai University's Faculty of Engineering Science and Teijin Frontier have developed e-stitch, a series of fashionable piezoelectric wearable sensors with stitch designs that measure body motions such as extension, contraction, bending and twisting.
Soft, flexible e-stitch sensors are largely unrestricted in terms of fabric types and embroidery patterns, allowing them to be produced in highly fashionable designs.
The new series is based on piezoelectric kumihimo wearable sensors that Kansai University and Teijin Limited announced in January 2017. For demonstration purposes, those sensors were incorporated in Japanese-style braided cords, known as kumihimo. The technologies embodied in soft, flexible e-stitch sensors represent a break from preconceived ideas about wearable sensors because they offer new levels of sensing convenience and fashion.
Kansai University and Teijin Frontier will exhibit their e-stitch sensors and examples of their application at The 4th Wearable Expo (booth No. W15-5, West Hall), the world's largest exhibition of wearable devices and products, which will take place at Tokyo Big Site from January 17 to 19. The booth will showcase samples of e-stitch sensors featuring traditional designs that have been incorporated in ladies' modern denim wear made by Japanese designer Homay, the producer of Kyoto Denim clothing. Samples of e-stitch sensors incorporated in pet wear and athletic-shoe insoles also will be displayed.
Going forward, Kansai University and the Teijin Group will continue to explore the potential of polylactic-acid (PLA). Through industry-academia collaborations, they aim to create highly added-value sensing technologies for augmented-reality applications in the Internet of Things.
Piezoelectricity is the generation of electric charges by certain dielectric materials in response to mechanical stress. Piezoelectricity also can be used to apply electric voltage to produce mechanical strain in materials. Both effects can be measured, enabling piezoelectric materials to be used for both sensors and actuators.
Kansai University and Teijin have been jointly developing eco-conscious PLA piezoelectric materials for a number of years. They introduced a flexible piezoelectric film by alternately laminating poly-L-lactide (PLLA) and the optical isomer poly-D-lactide (PDLA) in 2012, PLA fiber- and carbon-fiber-based piezoelectric fabrics in 2015, piezoelectric roll for load-dependent voltage generation and attenuation in 2016, and piezoelectric kumihimo wearable sensors that detect body motions such as elongation and contraction, bending and extension, and twisting in 2017.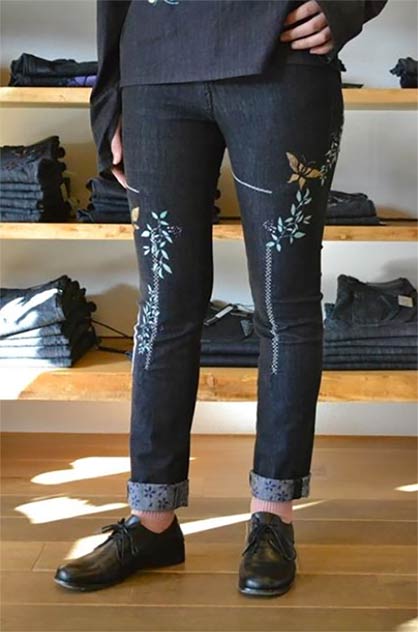 e-stitch sensors used in ladies' wear (c) 2018 Teijin
Related News
Latest News Research & Development
More News from Teijin Aramid

Latest News