Dyeing, Drying, Finishing
2023-02-15
Jerseys for world-class athletes from O´Neills

Pic 2: Exit with cooling zone and special transport belt for delicate, elastic fabric © 2023 Brückner
The biggest Irish jersey producer O'NEILLS finishes their elastic high-quality sportswear on a BRÜCKNER line.
The 100 % Irish owned company was founded in 1918 by Charles O'Neill to produce Gaelic footballs. Today the family-run company employs more than 900 people across Ireland, the UK, France, Australia, and beyond and is the biggest sportswear producer in Ireland. With their own knitting mill and dye factory as well as printing and sewing machines they are able to react rapidly to changing market requirements and to create their own new designs. Articles with customized logos and designs are a daily occurrence and make the work exciting and versatile. This flexibility provides a big competitive edge for the company. Today many leading sports clubs have tricots made by O'NEILLS, from soccer to rugby to boxing, basketball, hockey and many other types of sports. The quality of the products is very important and is anchored deeply in the company's history. This requires of course high-quality production machines and in this aspect BRÜCKNER could clearly convince O'NEILLS of the performance of the BRÜCKNER lines.

The family-run German company BRÜCKNER develops since more than 70 years drying and finishing lines for the textile industry and for technical products which are based on textiles or nonwovens. The lines are completely produced in Germany, tests and developments can be made together with customers in BRÜCKNER's own Technology Center. The line supplied to O'NEILLS has also been developed in cooperation with the customer and is tailor-made to the customer's needs. Special attention was paid to a tensionless fabric transport and improved dimensional stability of the product with the highest possible energy efficiency. In addition, O'NEILLS produces often small lots with heavy nonwovens which leads to an increased formation of fiber fluffs. Therefore, the dryer access has been adapted to simplify and accelerate the cleaning.

The BÜCKNER POWER-FRAME stenter features a web guider system in the entry to ensure proper decurling as well as accurate centric web running into the padder with minimum liquor pad trough. The machine has a vertically moving chain system and is built with alternating arrangement of the heating units/fans and nozzles. The side of the heating and circulating air elements alternates thus every 1.5 m which leads to a perfectly homogeneous air impingement over the complete fabric width.

The extended cooling zone at the end of the dryer improves the heat-setting results further. At the same time the fabric is led in the exit area over a special transport belt to finish the very delicate and elastic articles perfectly. This is essential for the high quality of O'NEILLS.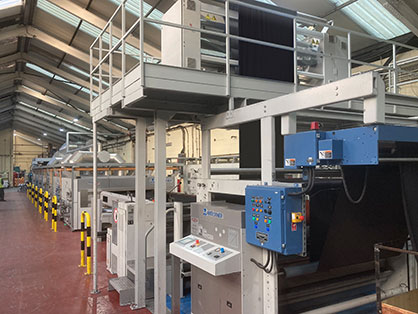 Pic 1: BRÜCKNER POWER-FRAME entry with padder, weft-straightener and entry transport belt © 2023 Brückner
After several years of operation, O'NEILLS recently ordered maintenance and optimization of the line together with BRÜCKNER's technologists. John Towell, Maintenance Manager with O'NEILLS says: "We have been using BRÜCKNER machines for almost 20 years, and have found them to be reliable, flexible and efficient. BRÜCKNER have helped us to find consistency with drying and heat-setting a varied range of our fabrics. We've also found them excellent to work with regarding repair and maintenance issues that have occurred over time. We hope to continue this strong relationship into the future, and would highly recommend them.

We were also very happy with the thorough inspection of the machine and the detailed analysis that followed. The report that we received post service was very informative and will help us going forward to keep our machine running as efficiently as possible and to keep it maintained for the future. We found the BRÜCKNER engineers to be extremely helpful and adaptive to our specific needs on the machine."

Related News
Latest News Dyeing, Drying, Finishing
More News from BRÜCKNER Textile Technologies GmbH & Co. KG

Latest News