Knitting & Hosiery
2017-07-03
Mayer & Cie. wins accolade for strategic brand management
On 29 June 2017, Albstadt-based circular knitting machine manufacturer Mayer & Cie. (MCT) won a 'Special Mention' for its brand management in this year's German Brand Awards. This accolade is given in recognition of particular aspects of brand management and strategy. The German Brand Award was offered for the second time this year. It was initiated by the German Rat für Formgebung, or Design Council.
Companies like Lufthansa Systems, Motel One and Lamy, manufacturer of writing utensils, topped the winners' rostrum. Sebastian Mayer, Mayer & Cie. Management Board member responsible for corporate development, took home the award together with Marcus Mayer, Managing Director of Mayer & Cie. Considering the well-known winners and contenders, Sebastian Mayer is happy about the recognition MCT earned. "It makes it clear," he says, "that we have already reached a high level with our brand strategy – and that we are in the best company of others from whom we can definitely still learn a thing or two."

A brand, according to the awards organiser, the German Brand Institute, is a crucial success factor in the national and international competitive environment. In Mayer & Cie.'s case a strong foundation is already in place. The brand is established and well known in the market. There can be no doubt that every commercial knitting enterprise in the world is familiar with the green MCT logo and that most of them have already used Mayer machines. The brand enjoys a high level of trust because it stands for long-lasting, productive, high-quality machines and a sound and healthy company. This brand message tallies overall with the brand owner's self-understanding as a market leader, technology leader and innovation driver. A brand management strategy is required to ensure that this continues to be so in the future and that the promise is kept by the firm's products and actions. This is what convinced the German Brand Award's independent jury of brand experts in different disciplines and earned Mayer & Cie. the award.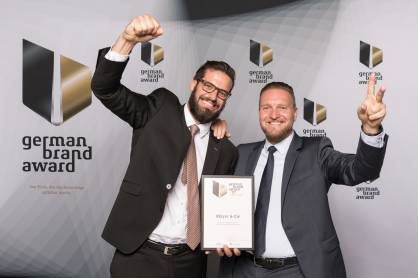 Sebastian and Marcus Mayer at the German Brand Award 2017
Related News
Latest News Knitting & Hosiery
More News from Mayer & Cie. GmbH & Co.

Latest News