ITMA-Asia + CITME-2014
2014-06-12
Saddle up for higher productivity – experience live at Groz-Beckert how potential can be fully utilized!
More productivity thanks to the perfect interplay of convincing products – that's the main focus of Groz-Beckert's trade show appearance (Hall E5, Booth B01 ) at the ITMA ASIA + CITME 2014!
Take knitting technology for instance: At the Groz-Beckert booth from this Monday onward visitors can experience live how numerous factors, combined with small details, combine to bring them genuine competitive advantages along the entire length of the textile value chain.
"Saddle up for higher productivity" – it means thinking long-term, and profiting permanently. Groz-Beckert shows how companies can achieve that. Visitors should take this opportunity and visit one of the leading trade shows of the textile world – as the guest of Groz-Beckert.
Groz-Beckert Knitting division will be providing some deep insights into otherwise hidden technical processes – by means of a large circular knitting machine made from acrylic glass! It will demonstrate how products from the Groz-Beckert portfolio work together with the highest precision to achieve perfect results. And a special application will also be showing how this perfection can contribute to even higher productivity. Like an elegant ice sculpture, the large circular knitting machine - made from acrylic glass and built true to scale – will demonstrate the areas in which Groz-Beckert products are used, and how the individual components all mesh together with the highest precision. The exhibit, subdivided into different segments, presents a total of 14 different knitting technologies – including not only body size, single jersey and double jersey but also jacquard techniques and several others.
The unique design of the cylinder is also interesting: It represents a sequence of different gauges, from E10 to E50.
Although the Groz-Beckert components appear to be floating in mid-air, they really are genuine parts that can be detached and moved! This is a great opportunity to see things from an entirely different angle, and this special exhibit is a real delight.
Improving productivity in the circular knitting process is a further key topic. Every visitor to the trade show will be able to have Groz-Beckert calculate their individual potential in terms of productivity and resources savings.

Pic: The "glass machine" from Groz-Beckert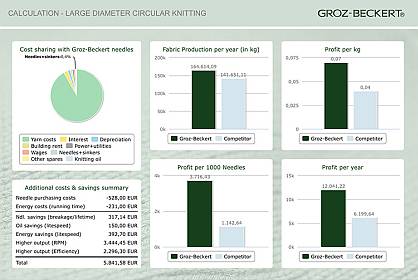 Pic: Overview of results - a circular knitting machine has so much more potential.
People can also discover how to make maximum use of untapped opportunities for improvement, by using custom-fit, high-quality Groz-Beckert products. Groz-Beckert has developed this application, with its questions and solutions relating to the production process, under the slogan "Fine-tune your productivity". It demonstrates just how great the positive effects can be of making numerous small changes to the five key factors of the knitting process: engine speed, efficiency, needle breakage rate, needle service life, and energy consumption.
Naturally there are further highlights to discover at the Groz-Beckert trade show booth, including…

the TexCar, which provides a cutaway look at the locations where textile materials are used in modern vehicles
and a prizewinning competition on the theme of productivity. You've got the chance to win an iPad!
Related News
Latest News ITMA-Asia + CITME-2014
More News from Groz-Beckert KG

Latest News